As web3, cryptocurrencies, and blockchain technology has grown in popularity, so has the demand for jobs in the sector. Numerous positions are available on an increasing number of crypto job boards.
The process of sorting through the roles and websites, however, can be challenging. The good news is that, in addition to traditional job search websites, there are several job boards dedicated to crypto and web3 positions, which makes the job filtering process easier for aspiring candidates.
❓ Did you know that searches for "#Web3" have increased by 775% over the last five years?!

People usually search for: the meaning of web3, web3 jobs, projects, but also news!

What are your most recent searches regarding web3? Let us know! 👇 pic.twitter.com/vOsT3qrxIm

— Inery Blockchain (@IneryBlockchain) December 27, 2022
Crypto Job Boards
Over 15,000 crypto job openings are currently available, according to a quick search on traditional job search websites like LinkedIn. However, even though job openings are widely advertised on these conventional websites, there are many sub-niches in the cryptocurrency and blockchain industries with different skills needed for each position. Therefore filtering the correct job positions to apply for in the web3 ecosystem through traditional web2 job search engines can be time-consuming and tiresome.
Furthermore, due to the industry's rapid growth and the fast-paced nature of cryptocurrencies, traditional HR and employment practices have not yet caught up with how blockchain ventures engage and recruit new talent. As a result, blockchain-focused businesses frequently look for specialists through a network of different crypto-specific job markets and portals instead of accessing talent pools through traditional agencies.
A crypto job board is a platform that focuses on jobs in the cryptocurrency and blockchain industries. As it only posts jobs about the web3 ecosystem, this drastically reduces the time to narrow down one's job search. Most well-known crypto job boards frequently post multiple new job openings and positions daily. The focus of cryptocurrency job boards is on making it simple for job seekers to filter positions and locate openings in sub-niches like NFTs, DeFi, or DAOs.
The market cap of the cryptocurrency industry has experienced enormous swings, going from an all-time high of $3 trillion last year to a market cap of $800 billion. However, the demand for jobs ranging from entry-level aspirants to senior-level managers and the variety of positions from content writers to blockchain developers remains high despite the volatility in cryptocurrency prices and the market cap of the industry as a whole.
Top 5 Crypto Job Boards
Blockchain experts are in high demand due to the influx of venture capital investment, institutional forays into emerging markets like decentralized finance, and the growing popularity of blockchain technology across numerous industries. Numerous crypto job boards have emerged in response to this demand for skilled workers, giving employers a platform to hire a skilled workforce while offering plenty of opportunities for crypto aspirants.
1. CryptoJobsList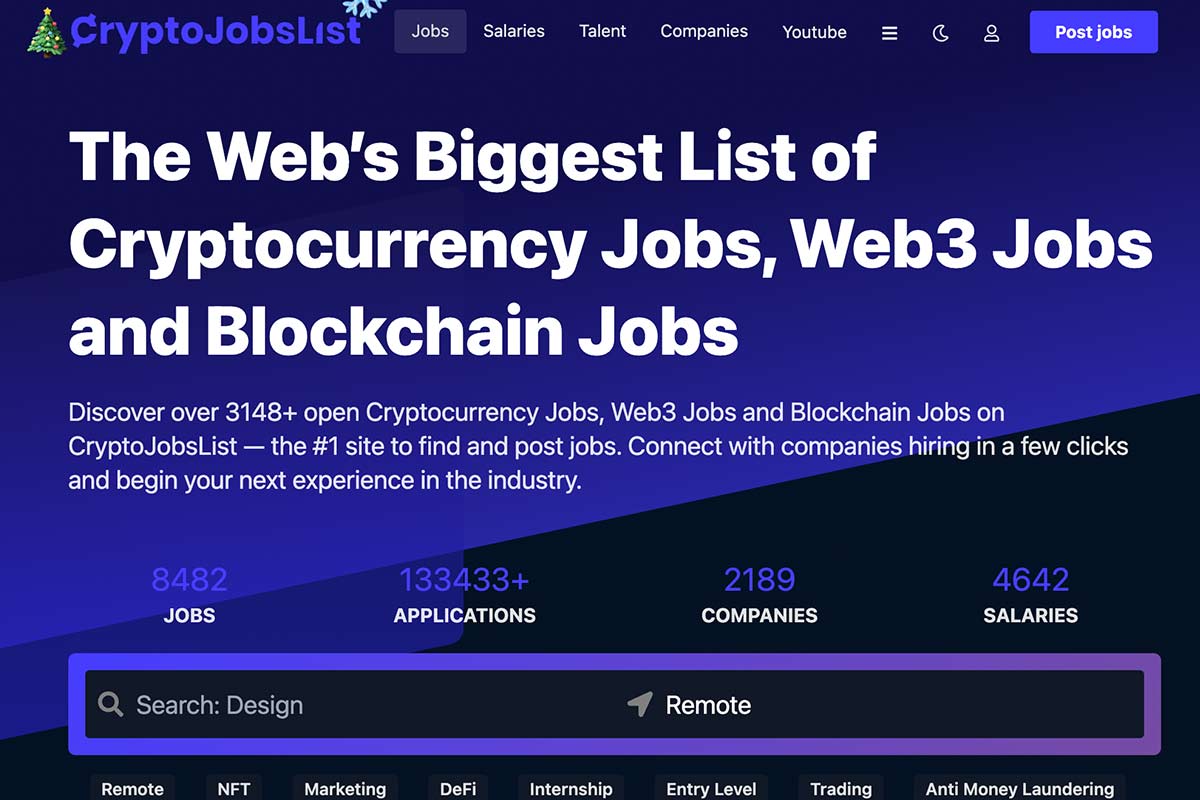 CryptoJobsList was established in 2017 and is one of the oldest job portals dedicated to crypto and blockchain jobs. The platform frequently adds fresh openings and advertisements for employment every day. Job seekers can narrow their search by location, employment type (full-time, part-time, freelance, and internship), and skill set (Solidity knowledge, customer support, marketing, and many more). In addition, a user does not need to create a profile on the platform to apply for jobs.
The platform allows users to view an application count against each job post. This makes it easy for candidates to gauge the level of competition for a role.
2. Crypto.Jobs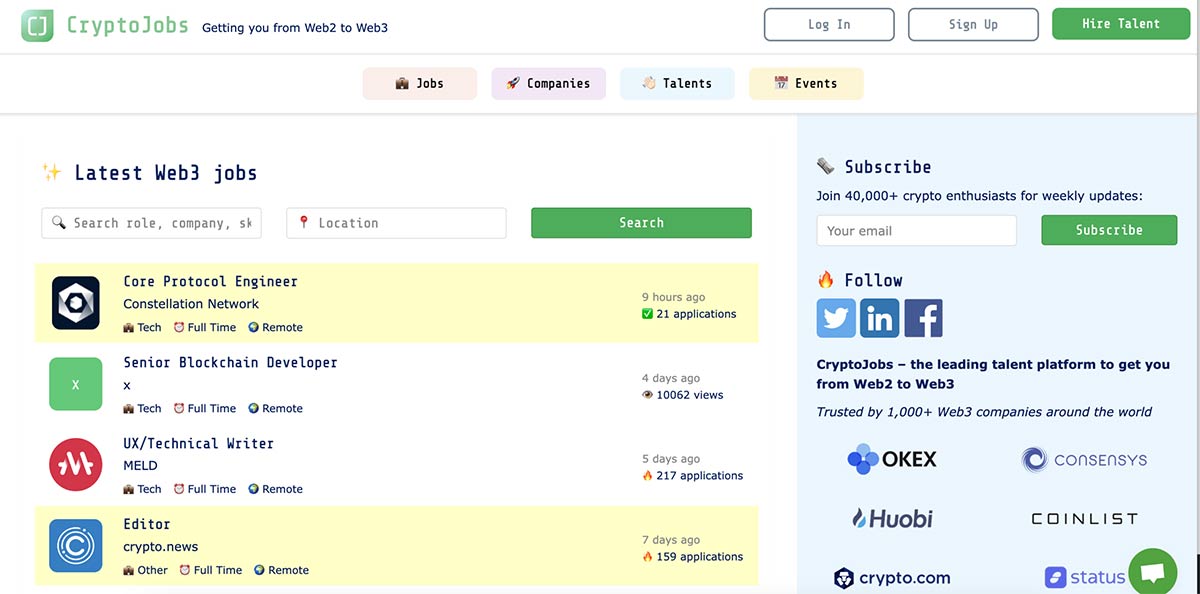 Crypto.Jobs positions itself as the number 1 website for web3 jobs. Currently, there are over 3300 jobs crypto-specific jobs available on the platform. Positions range from tech jobs like blockchain developers, and marketing jobs like crypto reporters to customer support jobs like community managers and many more. The vast majority of these postings are remote-based jobs. Although positions are regularly published and listed in order of most recent to oldest, CryptoJobsList posts jobs more frequently.
Users can quickly glance at the job category, role, and location for each post, thanks to the interface's design. Additionally, users can view the number of views each job ad has on the platform, and popular listings occasionally receive a "trending" emoji. This is a helpful way for Candidates to understand the possible competition for each listing.
3. CryptocurrencyJobs.co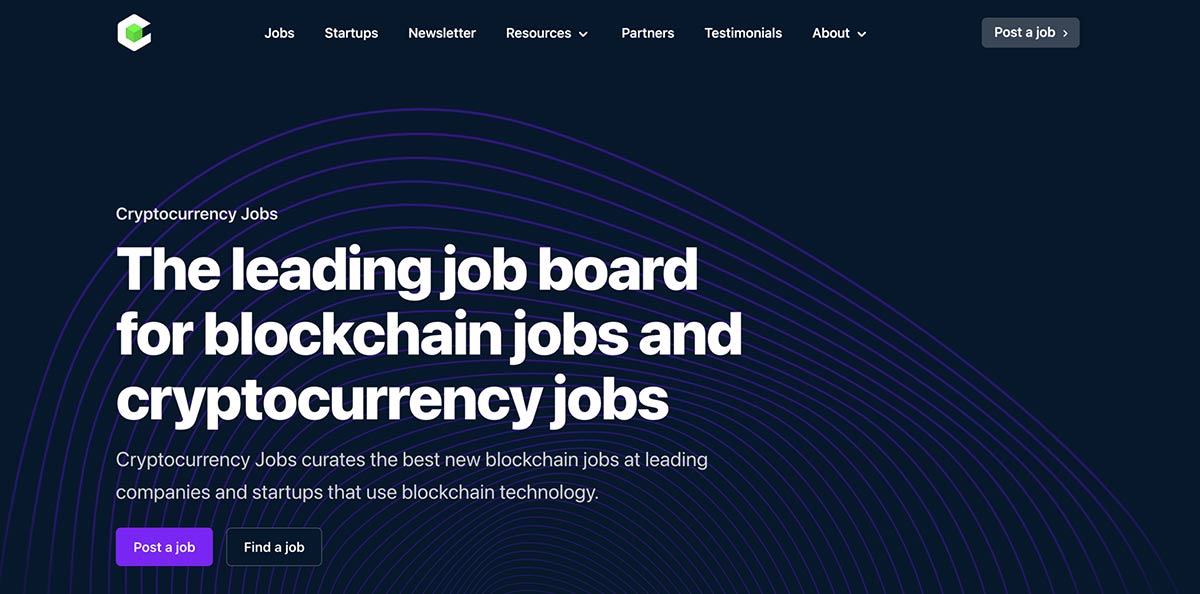 As opposed to the websites mentioned above, CryptocurrencyJobs.co is a crypto jobs portal that emphasizes technical blockchain skills more heavily. The positions listed on CryptocurrencyJobs.co typically include smart contract engineers, technical leads, user experience designers, and C-suite positions in business development, marketing, and sales. That said, the platform also lists non-technical roles with a specific filter on the landing page.
The startup portal provided by CryptocurrencyJobs.co, which enables job seekers to find positions with startups, is an enticing feature. However, the inability to view the number of applicants against each listing is a notable feature that this platform is missing.
4. Crypto-Careers.com

Crypto-Careers.com is a tech-focused cryptocurrency jobs board similar to CryptocurrencyJobs.co. It primarily focuses on technical job listings posted by large-scale organizations like OKX, Binance, and Chainanalysis, to name a few.
A drawback of this platform is its main page user interface. The platform offers a wide range of crypto job opportunities, but the home page only lists a small number of open positions. This makes it time-consuming to search through job postings. However, the lack of functionality on the main page is made up for by advanced filters. The filters include the amount of funding companies have received, their size, stage, industry, and location or remote accessibility. 
5. Blockew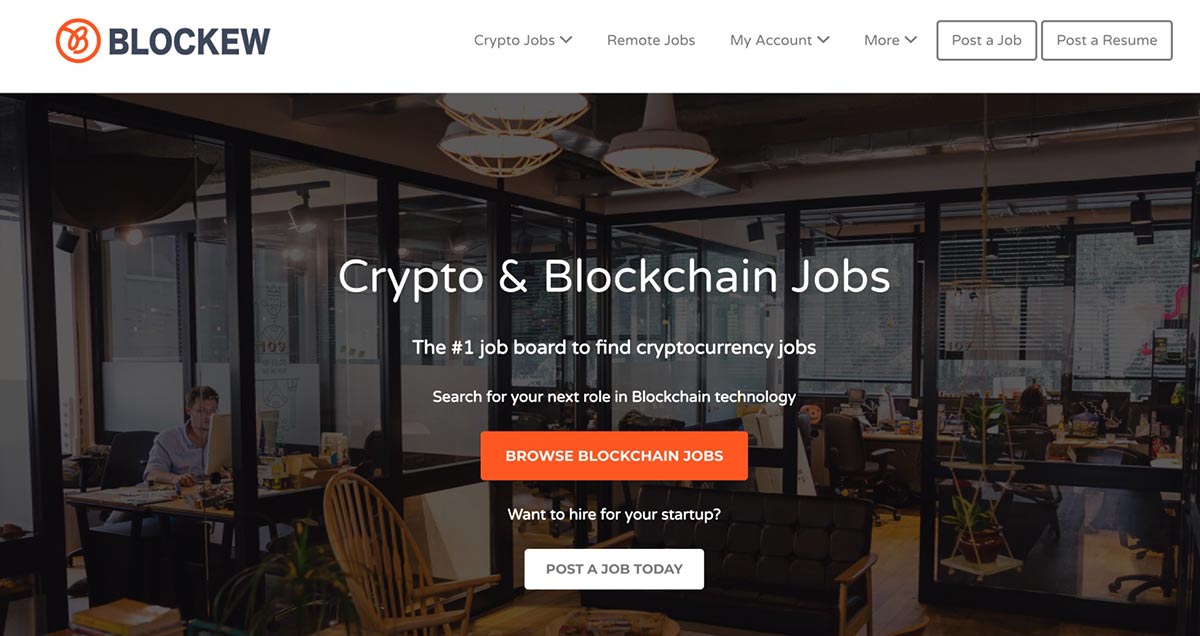 Blockew primarily lists long-term roles such as frontend engineer, blockchain developer, strategic operations associate, regional manager, and marketing manager positions. While the roles on offer in the platform are extensive, the website's landing page does not provide a chronological list of the most recent jobs posted. As a result, finding out the exact date a position was first listed and whether it is still active or hiring can be very challenging. 
Other Recommendations
Platforms like UpWork, the largest job portal for freelancers, often post crypto and blockchain-related jobs. This is a good option for those looking to diversify their portfolios or gain work experience in the ecosystem for shorter-term tasks.
Crypto job boards like the ones listed above are fantastic places to start a job search. However, using additional resources in tandem, such as joining Discord and Telegram communities and attending crypto meetups to network with the community, continues to be an essential strategy for those seeking work in the crypto space. Crypto conferences frequently held across the globe are increasingly becoming a hub to network and an excellent opportunity to meet individuals already in the industry.
Conclusion 
Options continue to be abundant for people from all backgrounds who want to transition their careers into the evolving web3 ecosystem. In addition, aspiring job seekers now have an easier time narrowing down their job search options thanks to the growth of crypto-specific job boards in recent years.