The number of crypto job roles for people from all backgrounds is growing along with the global adoption of cryptocurrencies and blockchain technology. Despite the current bear market's short-term volatility, which has led to job cuts compared to last year, the long-term potential for blockchain technology and the web3 sector as a disruptor of numerous industries is likely to remain positive.
Crypto job opportunities range from various technical roles, such as developers, to non-technical positions, such as social media managers. Therefore the skills required to enter the space are extremely broad. This allows people from all backgrounds to apply for a job in the space.
Top Skills Crypto Recruiters Seek
Crypto roles broadly fall into technical and non-tech or business jobs. Blockchain businesses have two primary goals. First is concentrating on developing the technical foundation of their product, followed by a team to assist in marketing their service to a larger audience. Therefore the roles on offer are widespread. To work in cryptocurrency and blockchain, candidates no longer need to only possess technical skills. As non-technical fields advance, crypto enthusiasts have many opportunities to pursue a lucrative career.
Technical skills
The most sought-after skill sets on the market right now are those for technical roles like engineering for smart contract programming languages like Solidity and Rust, IT & operations, data science, product management, cryptography and security, data analysis, UX design, web development, financial analysis, legal and compliance.
According to a recent blockchain job report published by the Centre for Finance, Technology and Entrepreneurship (CFTE), 60% of blockchain roles are technical roles, with 40% being engineering roles. In the blockchain and cryptocurrency industries, software engineers are the heart and soul of blockchain companies as they lay the technical groundwork for a business in the space. Thus, proficiency in programming languages like Python, C++, or Java is essential for these positions.
Non-technical skills
As cryptocurrencies have grown, so have the number of cryptocurrency-related jobs outside the technical realm. Non-technical crypto job listings in design, marketing and communications, sales and business development, and partnerships are becoming more prevalent on major job boards. Companies that develop cryptocurrencies or use the technology to scale or automate their processes require personnel for these supporting roles.
The Increasing Need for Soft Skills
Although many crypto positions require specific technical or hard skills, many others, especially in non-tech roles, require softer skills. Soft skills are less easily measured character traits. These skills help people communicate clearly and effectively with others. These are not technical skills unique to a given role or task. Instead, they are more broadly applicable skills used in a range of contexts and industries.
Candidates with soft skills, such as communication, creativity, adaptability, problem-solving, an entrepreneurial mindset, and the ability to work well in a team, are highly valued by employers. In addition, teamwork and a willingness to learn are highly sought-after traits for potential candidates looking to enter the space because of the crypto industry's fast-paced, decentralized nature.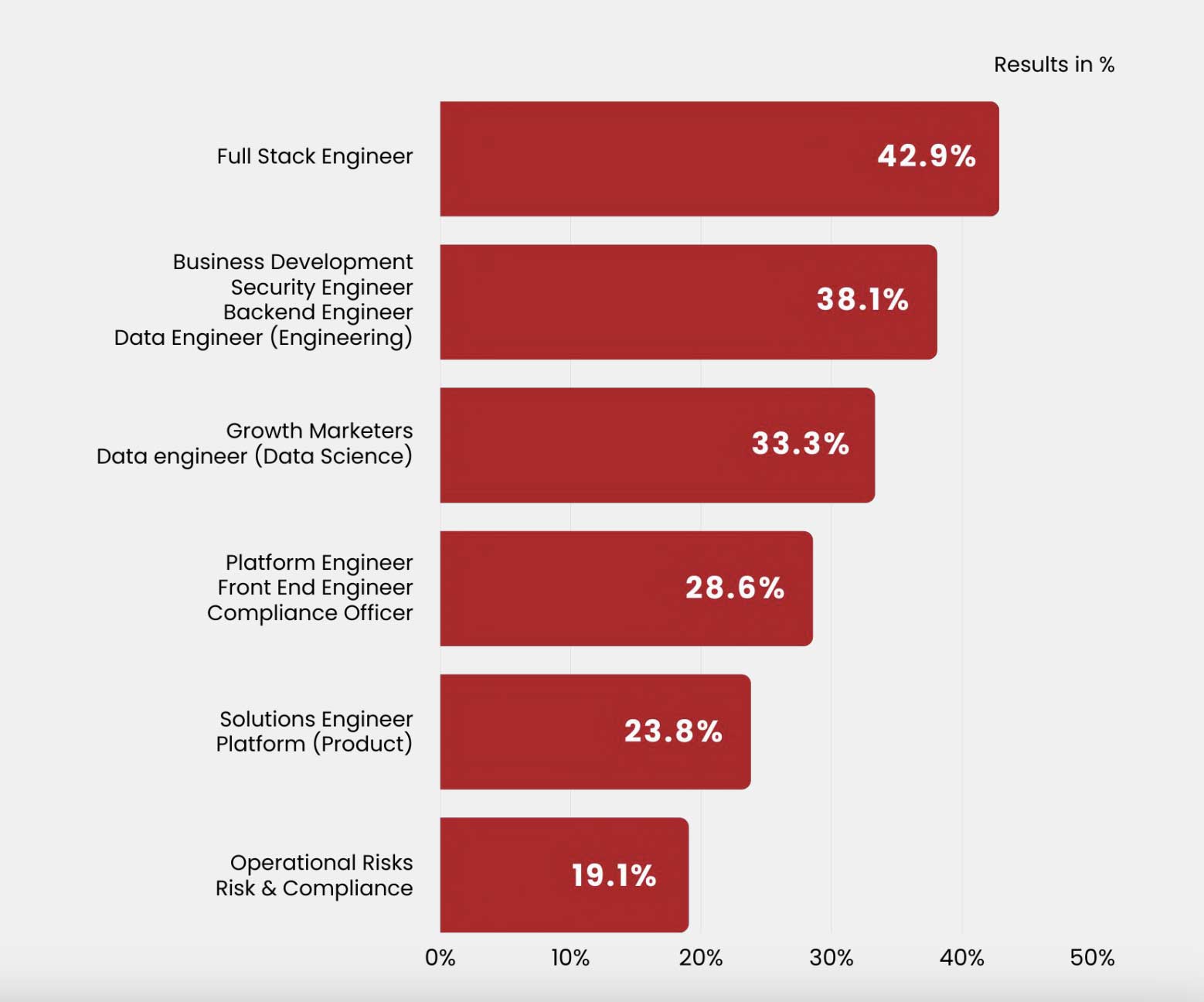 Crypto and blockchain companies are drastically different from traditional 9 to 5 businesses. Cross-functional cooperation is the primary mode of operation in blockchain companies, which typically have flatter organizational structures. Additionally, the majority of cryptocurrency jobs are remote, which can pose unique difficulties for collaborating as a team. As a result, prospective candidates must demonstrate their flexibility and capacity to work collaboratively with their team despite these challenges.
Moreover, it is crucial for any candidate to stay current with changing trends in a sector that is evolving rapidly. Individuals run the risk of falling behind the curve if they don't stay informed about the market or news. Recruiters value candidates with a self-driven attitude who are naturally curious and keep up with current events. Regardless of their level of seniority, employees must have a greater sense of accountability and responsibility.
Hands-on Industry knowledge
While soft skills are essential, potential candidates will also need a thorough understanding of how the blockchain functions. Additionally, recruiters value candidates who have a deeper understanding of the sub-niche (DeFi, NFTs, exchanges) for which they apply. Although selected employees are likely to learn alongside the developing industry, some prior practical experience with crypto is highly recommended.
Job Opportunities During Crypto Winter
There has been a decline in the number of crypto job applicants compared to last year as the crypto market enters a bear market following the all-time highs of the previous year. For example, the significant staff reductions from top crypto exchanges this year can be used to gauge the market's pessimism. Nevertheless, despite the severe downturns in the cryptocurrency sector and broader financial markets, there is still a high demand for talent in the blockchain and crypto industries.
Additionally, according to the data released by Crypto Jobs Lists, the number of monthly job postings and the number of companies hiring is roughly at the same level as last year. This goes against the trend because, historically, demand for talent has fallen off during market downturns. This demonstrates how the industry is maturing.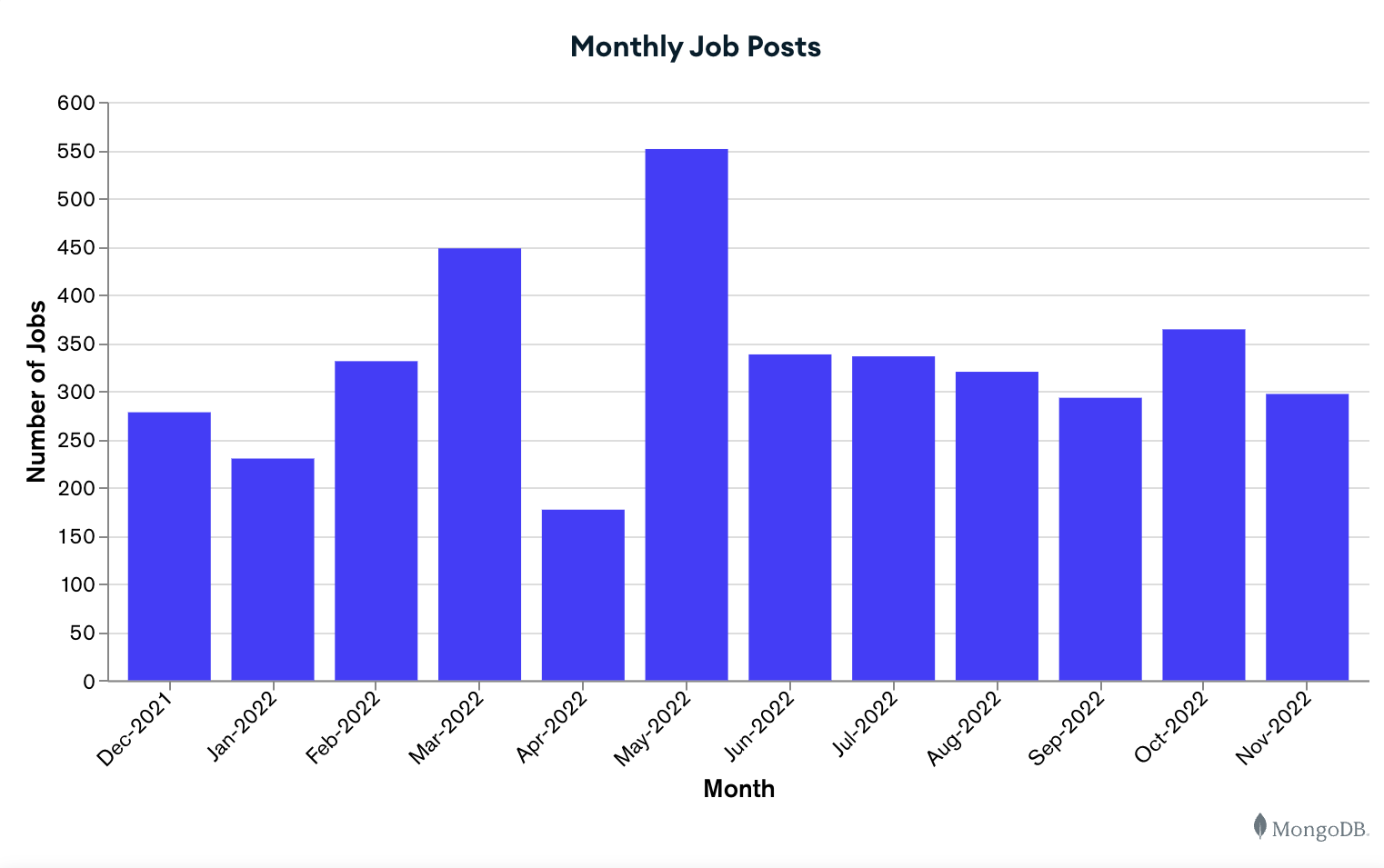 It is also important to note that, despite significant layoffs this year, well-known cryptocurrency job boards like CryptoJobsList, Crypto.jobs, and Cryptocurrencyjobs.co continue to regularly post job openings for a range of positions on their websites and Twitter accounts. 
🚨Unfortunately several crypto exchanges announced big layoffs recently:
– @coinbase 18%
– @Gemini 10%
– @cryptocom 5%
– @BlockFi 20%

Despite all this several of our hiring partners are still looking for devs: Rust, Solidity, React, NodeJS…

✉️ DMs are open! #hiring

— CryptoCareers | Hiring Web3 Developers (@_cryptocareers) June 14, 2022
Conclusion
As companies actively seek talent, there remain several avenues for people to enter the crypto job market despite the current financial conditions. The skills which recruiters are looking out for extend far beyond blockchain experts. In reality, in addition to having the appropriate hard and soft skills for the applied role, the ability to exhibit the proper mindset, foundational knowledge of blockchain technology, enthusiasm for the industry, and an eagerness to learn are what distinguish successful candidates from those who are not selected.