Non-custodial hot wallets are mobile applications or web-based extensions connected to the internet. Unlike their custodial wallet counterparts, these platforms give users complete self-custody of their private keys and funds, enabling them to securely store, send, and receive their digital assets while on the go.
There are many options for holders wanting to store their digital assets on hot wallets. Choosing hot wallets with a solid reputation and a proven track record is crucial. The most well-known platforms include Trust Wallet, Exodus, and Coinbase Wallet.
Self-custody
Self-custody is a fundamental tenet of cryptocurrencies. In the cryptocurrency community, "self-custody" has almost become synonymous with "security," given the recent spate of centralized exchange hacks and bankruptcies. Self-custody in crypto jargon means the holders control the private keys to their digital assets. The private keys are stored locally on one's device, be that a phone, computer, or hardware wallet.
Self-custodial wallets differ from custodial services such as exchanges, in which users rely on a third party to manage their private keys. Users must submit a withdrawal request and place trust in the exchange to honor the request. Hence, users must download a non-custodial wallet to hold their private keys and completely control their funds.
Self-custody's applications extend to the creator economy, as we can envision a future where creators will have their portfolios of not just crypto earnings but all digital assets on-chain. Self-custody will enable them complete control over the assets and protection from hacking, theft and loss.

Paolo Danese, Founder and CEO at Storya
While self-custody using hardware devices is the optimum method for safeguarding digital assets, fortunately, the adoption of cryptocurrencies has led to a spike in free mobile applications. The following picks for the top non-custodial hot wallets cater to the average crypto holder, new to the space and looking for security with the convenience of managing their assets anywhere.
1. Trust Wallet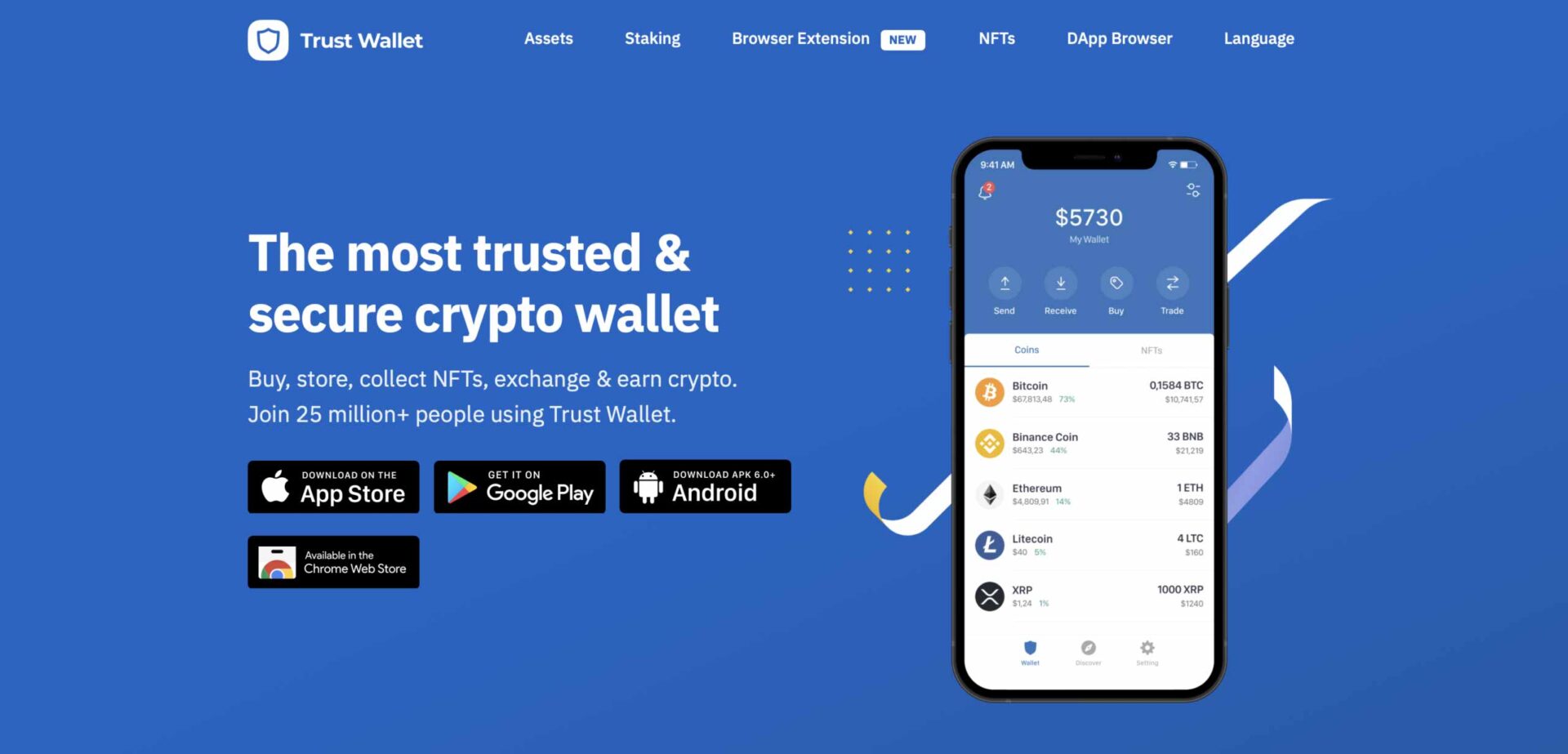 Trust Wallet is one of the most renowned non-custodial hot wallets established in 2017 out of Mountain View, California. It was the brainchild of Viktor Radchenko, a US-based Ukrainian software developer. The growing popularity of the wallet led to Binance, the largest cryptocurrency exchange, acquiring the platform in 2018. 
The decentralized, open-source, mobile cryptocurrency wallet supports numerous coins. The platform currently supports 65 blockchains and over 4.5 million digital assets. User's can stake several supported coins within the app to earn passive income. Trust wallet also enables NFT storage. The platform allows users to hold their Ethereum and Binance Smart Chain NFTs. Unfortunately, there is no support for NFTs on other networks like Solana. 
Trust Wallet has a Web3 Decentralized Application (DApp) browser integrated into the app. This unlocks the utility of the growing Decentralized Finance (DeFi) sector. In addition, the wallet can seamlessly integrate with DApps such as Uniswap, Aave, Compound Finance, PancakeSwap, and any other DApp that exists on the Ethereum or Binance Smart Chain networks. 
Trust Wallet also comes equipped with a built-in Decentralized Exchange (DEX). As a result, users can instantly and seamlessly swap coins without needing KYC or identity verification, with the security of their funds never having to leave the wallet. In addition, Trust Wallet offers fiat payment options for customers who wish to purchase cryptocurrency using credit or debit cards. Moonpay, Ramp, and Simplex are a few of the card payment processors that Trust Wallet has integrated into its platform. 
The user interface is highly intuitive and straightforward, making it an ideal option for newcomers. The application also offers an additional layer of security via pin code and biometric authentication. However, there is no two-factor authentication. 
Trust Wallet is a solid non-custodial hot wallet option with over 25 million users. It is at the forefront of promoting web3 adoption thanks to its simple-to-use interface, integrated web3 DApp browser and DEX, and the wide variety of coins supported.
2. Exodus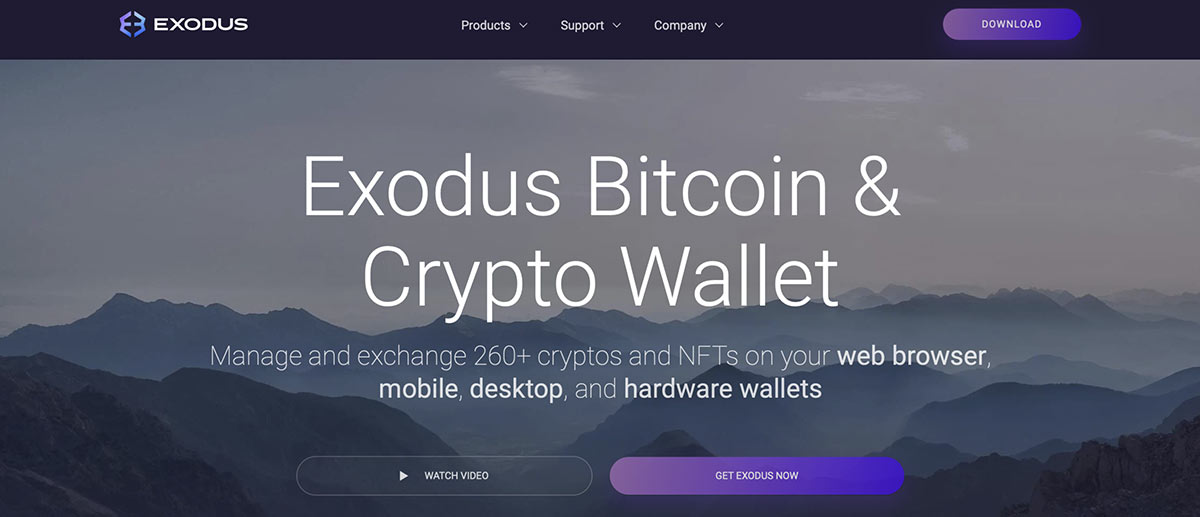 Exodus was founded in 2015 by JP Richardson and Daniel Castagnoli. The software wallet's easy-to-use and aesthetically pleasing interface makes it perfect for beginners while being reliable and secure enough for seasoned cryptocurrency users. The multicurrency wallet currently supports 291 cryptocurrency assets, with more added frequently. In addition, the NFT Gallery within the app allows users to store, send, and receive NFTs on several blockchains, such as Ethereum, Solana, Algorand, Polygon, Binance Smart Chain, Avalanche, and Fantom. 
Exodus is a free mobile and desktop application and is also compatible with hardware wallets from Trezor for offline storage of cryptocurrencies. In addition, exodus recently launched its web browser extension on Google Chrome and Brave, allowing users to access various DApps on supported networks. 
While a password and biometric authentication add security to the wallet, the integration with the Trezor hardware wallet adds another layer of protection. The main advantage of this collaboration is that current Exodus users can now choose to keep their private keys offline. Additionally, with the Trezor device, all authentications occur on the device itself rather than a computer or mobile phone.
It has been a couple of weeks since the great exodus of users from exchanges to self-custodial wallets.

Want to take your security to the next level?

Consider a @Trezor! 🔒https://t.co/mFCYhcm9kJ#SelfCustody pic.twitter.com/hpbO6HwoOq

— Exodus – Crypto Wallet (@exodus_io) November 23, 2022
Exodus is also known for its excellent customer service and knowledge base. There is extensive material on the platform that explains how to use the wallet, its features, and fee structures. Moreover, customer service channels are easily accessible around-the-clock, and responses to inquiries are frequently prompt.
Another nifty feature within the platform is the ability to exchange assets within the wallet. Even though Exodus Wallet isn't an exchange in and of itself, users can swap supported cryptocurrencies within the application by using non-custodial, third-party API Exchange providers. These providers let users swap their assets without the need for KYC verification. 
Like the Trust Wallet, Exodus enables users to purchase cryptocurrencies using fiat money via bank transfer, debit card, or Apple Pay. Even though there are higher fees involved, the fact that this fiat-to-crypto on-ramp option is available right in the application is beneficial for beginners entering the space and for adoption in general. 
Coinbase Wallet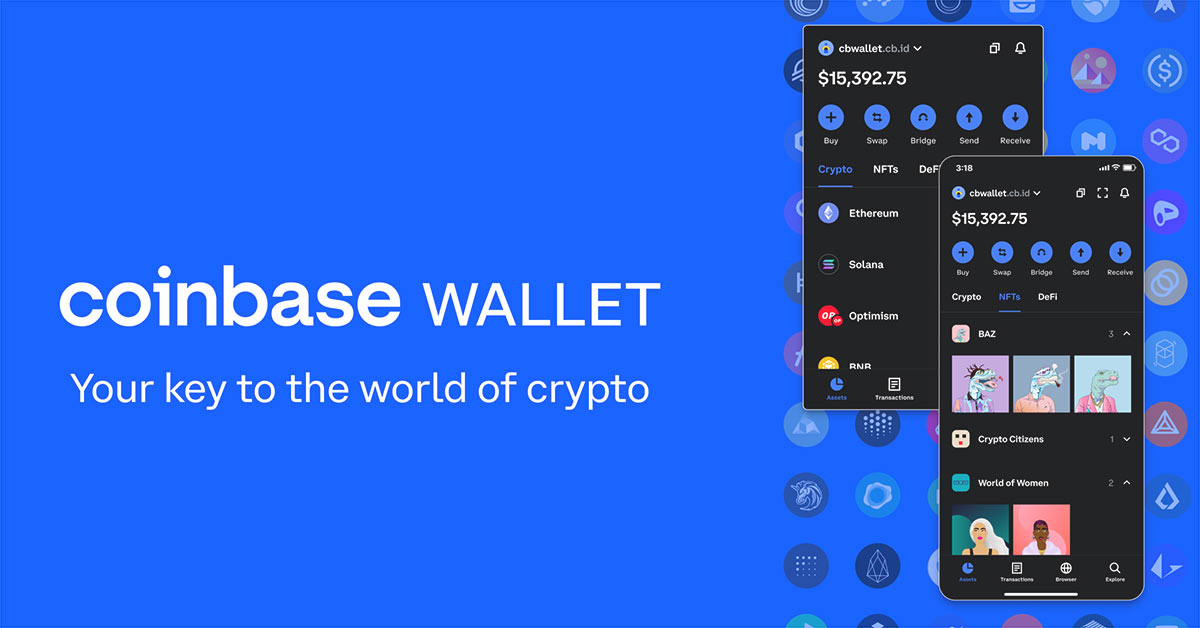 The Coinbase Wallet is a standalone app from the established, centralized cryptocurrency exchange platform, Coinbase. Users do not have to sign up on Coinbase to use this non-custodial wallet. That said, Coinbase exchange users can link their Coinbase wallet for seamless storage and transfer of crypto assets between the two platforms. Coinbase's self-custody wallet was released as a mobile application in 2017.
Wallet users can explore decentralized applications, manage their Ethereum and Polygon-based NFTs, and safely store more than 100,000 digital assets. However, a significant disadvantage for Apple IOS users of the Coinbase wallet is the inability to send NFTs out. This is because of a recent, bizarre Apple policy claiming that gas fees must be paid through in-app purchases. 
The Coinbase wallet offers sophisticated Web3 functionality. With the help of the application's browser feature, users can connect to DApps directly from the mobile wallet. Furthermore, the in-app DEX enables users to conveniently swap supported tokens. 
Security is a priority in the Coinbase Wallet. It prompts users to set up a pin code, biometric authentication, and a feature absent from the wallets mentioned above, two-factor authentication. 
Conclusion
The numerous cryptocurrency exchange hacks in the past have urged users to withdraw crypto assets from centralized exchanges. When choosing to self-custody, it is paramount to weigh one's options, execute due diligence, and always download wallet applications from the official website.
There are numerous options for safe digital asset storage for a newcomer to the space. There is always a trade-off between security and convenience when it comes to crypto storage. The more convenient, the less secure, and it is up to the individual crypto user to strike the right balance.