Blockchain technology, the underlying tech for cryptocurrencies, is versatile, offering benefits ranging from increased operational efficiency to decreased costs. The utility of the technology spans various industries, such as financial services and supply chain management to healthcare and identity management. Numerous lucrative crypto careers and job opportunities have become available as a result of this.
Irrespective of market conditions, there are several lucrative crypto jobs that are advertised on job boards such as CryptoJobsList and Crypto.Jobs. These positions include project managers, business development managers, UX designers, blockchain developers, and solidity developers.
Crypto Job Market Sentiment
The crypto industry has experienced rapid growth with precipitous declines. Extreme market volatility caused by recessionary fears and ongoing monetary policy tightening has led to sharp declines in traditional financial markets and assets, including crypto. Additionally, the collapse of the Terra ecosystem and the unanticipated bankruptcy fillings by industry titans like FTX, Celsius, BlockFi, and Voyager have further weakened the stability of the crypto markets. Due to these factors, the total market valuation of cryptocurrencies has decreased from $3 trillion to $806 billion as of this writing.

The bearish sentiment, negative price swings, and the string of insolvencies have contributed to large-scale layoffs in the crypto sector. According to a report published by Block Research, 2022 saw the highest number of layoffs, with over 9,500 people losing their jobs in the industry. Crypto.com accounted for the most significant number of cutbacks, with over 2,200. Meanwhile, companies such as Coinbase, Kraken, and Bybit each let go of more than 1,000 employees.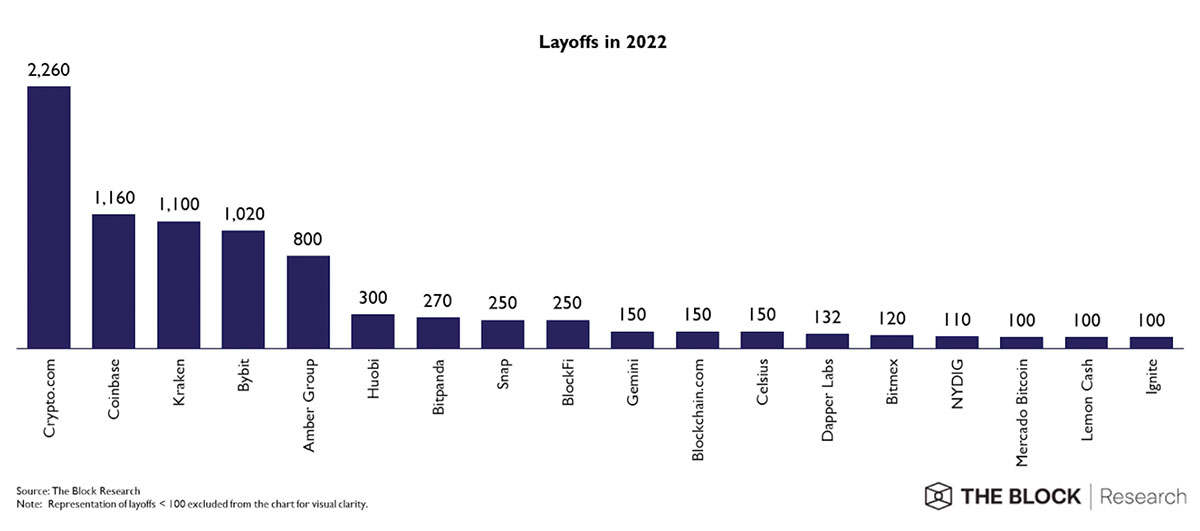 However, the crypto industry is not the only sector that has made significant staff reductions. Some of the most well-known tech companies in the world significantly reduced their headcount in response to rising inflation and interest rates. For example, Amazon and Meta each cut more than 10,000 jobs.
Even though the data presented indicates a bleak outlook for crypto careers and the job market, the sector is still bullish when considering long-term employment trends. Despite the recent black swan events that plagued the cryptocurrency industry and its job market, the number of jobs in the sector increased from 18,200 in 2019 to 82,200 in 2022. This accounts for a growth of almost 351%. 
Companies are #hiring again! BULLISH! pic.twitter.com/Ju0RvSE54R

— Crypto Jobs (@CryptoJobs) January 4, 2023
The Highest-Paying Crypto Jobs
Various technical and non-technical crypto careers and job openings are frequently posted on the best cryptocurrency job boards. Read this guide to learn more about the top crypto-specific job portals before beginning your web3 job search.
Crypto careers and job openings are growing at a rapid rate due to a multitude of factors. A nascent industry requires fresh talent. Currently, there is a shortage of skilled workers who can build web3 technology. As a result, a gap exists between the supply and demand of skilled workers, leaving many high-paying open positions vacant.
Furthermore, the emergence of new niches within the web3 ecosystem, such as NFTs, DeFi, and Metaverse, accelerates the creation of new crypto careers and opportunities. The demand for talent and job vacancies remains high due to a discernible increase in user adoption and the emergence of businesses and startup projects supported by Venture Capital (VC) funding.
Before diving into some of the most well-paid crypto careers, it is crucial to understand that, like in any industry, the salary bands for each role frequently fluctuate depending on various variables. In the cryptocurrency sector, this includes position levels or seniority, the type and size of the hiring company or project, and the country or location of the job. Some of the industry's highest-paying positions include the ones listed below.
Blockchain Developer
Developers are in an extremely high-ranking position in the cryptoshphere. They must have in-depth knowledge of the technology to provide exceptional solutions and services. Blockchain developers fall under two categories: core developers and software developers. The former are in charge of a blockchain system's architecture and security, whereas the latter build decentralized applications (dApps) and smart contracts using the architecture built by the core developer.
Blockchain developers typically earn $100,000 annually, with a minimum base salary of $40,000 and a maximum of $240,000. — Source: Web3 Jobs
Solidity Developer
Solidity is a programming language used to develop smart contracts on Ethereum. These developers create, audit, test, and review solidity smart contracts on Ethereum-based applications. Due to the highly specialized skill set needed for this position, there is a high demand for talent, and the pay is very lucrative.
A Solidity developer's wages range from $80,000 to $180,000 annually, with a median salary of $127,000. — Source: Cryptocurrencyjobs.co
Business Development Manager
Business development managers drive corporate growth by building new networks and relationships globally.
Business development managers typically make $92,000 per year on average. The starting base salary is $35,000, and the highest pay grade is $170,000. — Source: CryptoJobsList
Project Manager
A project manager is responsible for product development, partnerships, growth hacking, and community management. Therefore, this position involves working as an intermediary between clients' expectations and blockchain specialists. These managers are in charge of managing the project from start to finish. The role necessitates creating a detailed project roadmap to deliver the desired product within the timeline and budgetary restrictions.
The typical yearly salary for project managers is $90,000. Base salaries start at $50,000 and go upwards to a maximum of $160,000. — Source: Web3 Jobs
UI/UX Designer
User Interface and User Experience roles are in high demand as user adoption across web3 platforms increases steadily. Companies are aware of the need for simple and intuitive user interfaces on their platforms to encourage mass adoption. UI and UX designers proactively drive and conduct user or customer research to improve products. They translate user feedback to implement designs that have a high-quality user experience.
A UI/UX designer in the cryptocurrency industry makes an average base salary of $107,500 annually. The base wage ranges from $80,000 to $140,000 at its highest. — Source: cryptocurrencyjobs.co
Conclusion
This article has highlighted some of the most lucrative crypto careers and job positions in the industry. However, the fact that these are merely a few of the available roles must be kept in mind. The cryptocurrency sector is rapidly evolving, and new job roles appear to be propping up constantly. Candidates looking to start their crypto careers must therefore monitor job boards and stay informed about industry trends.