We were in attendance as figures from the cryptocurrency and blockchain community at Davos. The World Economic Forum returned to the snow-laden ski resort town in the Swiss Alps for its first winter session in three years. Over the four-day forum, we witnessed a wide range of world leaders gather to discuss global issues.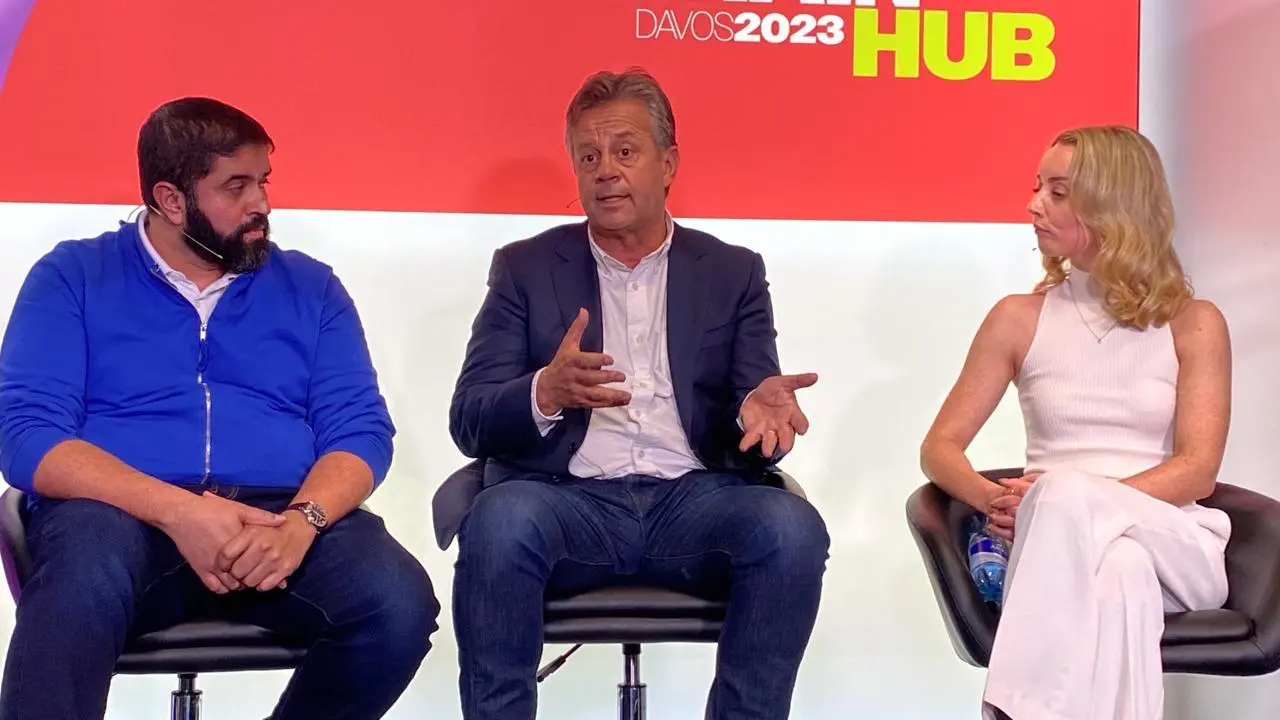 The annual event included common themes of climate change. However, discussions of digital innovations and transformations were also prevalent. Despite a turbulent year for the crypto industry, we saw an undeterred web3 community. The various crypto and blockchain events made their presence felt at the event. 
Agenda at Davos 2023
This year's forum had the theme "Cooperation in a Fragmented World" as its focus. This was a nod to the pandemic-induced seismic shift in global markets and political alliances. Russia's war in Ukraine and the resultant economic fallout were discussed at official events. Major themes included the cost of living, food and energy crisis, and an expected global recession. 
We discovered a plethora of crypto and blockchain events that took over neighborhood stores along the central promenade. This was the street outside the World Economic Forum's main congress center. Moreover, the most interesting conversations about tackling the world's most pressing issues were discussed in establishments like the blockchain hub. This included discussions of delivering humanitarian aid to Ukraine through blockchain technology.
The World Economic Forum facilitated discussions between powerful TradFi executives, regulators, and participants in the cryptocurrency and blockchain industries. In addition, there were a number of panel discussions addressing different aspects of the industry. Debates ranged from the industry's potential for revolutionizing businesses and governmental operations. There were also a more narrow set of topics, such as the role of central bank digital currencies, digital identities, and tokenized economies. 
We also witnessed discussions that focused on the industry's future in the wake of the FTX collapse. Major central banks and regulators utilized the forum to call for the urgent rollout of crypto regulations. Singapore's Senior Minister Tharman Shanmugaratnam, European Central Bank Governing Council member Francois Villeroy de Galhau, and UBS Group AG Chairman Colm Kelleher all reiterated this urgency.
BREAKING:🇨🇭Bankers and Regulators at #WEF Davos express concerns about #Bitcoin adoption and call for "urgent" regulation – Bloomberg 👀 pic.twitter.com/rImKaGycOO

— Bitcoin News ⚡ (@BitcoinNewsCom) January 18, 2023
Veterans of the cryptocurrency sector, including Changpeng Zhao (CZ), the CEO of Binance, offered their opinions. During a virtual fireside chat at the blockchain hub, he encouraged the audience to ignore the FUD while urging the use of Proof of Reserves to foster transparency and build industry trust.
🎯APPROACH TO ESTABLISHING CREDIBILITY IN WEB3⚖️@cz_binance @binance in conversation with @MParlikar @Casper_Labs at @wef.#BlockchainHubDavos #Davos2023 #WEF2023 #BNB

— DroomDroom (@0xDroomDroom) January 19, 2023
A Resilient Crypto Sentiment 
We arrived at Davos unsure of what to expect given the current bear market, and the sobering number of titanic industry collapses witnessed in 2022. We were, however, met by optimism and a resilient community looking to bolster its reputation and raise its profile amongst the world's elite of billionaires, bankers, and heads of state. 
While many in attendance noted a more subdued presence of crypto companies compared to the event that took place in May of 2022, it was still obvious that crypto played a significant role in the forum. The resilience reverberated through the streets of Davos, from the number of crypto billboards to lounges and meeting spaces. The presence of crypto enterprises like Circle, the Global Blockchain Business Council, Casper Labs, and the Filecoin Foundation was clear to all on official panels and in private stores and churches that they converted as promotional event spaces for the week.
A buzzword we came across in the community was the "great reset." The community at large viewed this bearish phase as an opportune time to build trust, responsibility, and solid projects. 
Bear market times in crypto are an opportunity to focus on establishing solid fundamentals and building momentum🚀

Thank you @deacix @1inch for bringing out a positive outlook to the bear market at @wef. #WAGMI pic.twitter.com/zxTfFhvKdD

— DroomDroom (@0xDroomDroom) January 19, 2023
My take on Davos 2023 – I honestly think it's healthy seeing the change in how crypto showed up this year. Folks are focusing on utility and how these technologies solve real problems — the only way the industry will move forward. Great to catch up @ArjunKharpal, @CNBCJou! https://t.co/sns4PX5q3O

— Brad Garlinghouse (@bgarlinghouse) January 18, 2023
Crypto is not for Wealth but for Freedom. And Freedom is Wealth. #WEF23 #Davos pic.twitter.com/98pZ4MFZsJ

— LCX (@lcx) January 15, 2023
Naysayers like JP Morgan's CEO, Jamie Dimond, and economist Nouriel Roubini renewed their objections to crypto at the World Economic Forum. However, the crypto community at Davos sought to distance itself from the abrupt demise of FTX and its co-founder Sam Bankman-Fried while concentrating more on cryptocurrencies' utility, promising future, and underlying philosophy. 
BILLION DOLLAR OPPORTUNITY🎯

Extraordinarily insightful conversation on monetizing NFTs for businesses at @wef💡

Thank you @Niamhjoc, @WISeKey's @CreusMoreira, @MetaMask's Nimantha Siriwardana, @dmusic_io 's Esteban van Goor, Lars Kalkdijk.#BlockchainHubDavos #Davos2023 pic.twitter.com/9VMqaHa9zl

— DroomDroom (@0xDroomDroom) January 19, 2023
Key Takeaways
A Bullish Crypto Winter
Aside from the attendance and overwhelmingly upbeat and optimistic demeanor among the crypto and blockchain community, the prevalence of crypto and blockchain-specific sessions on the official schedule at the conferences' main congress center highlighted the expansion of this sector. 
Opportunities, Adoption, and Innovation remain prevalent.
Meeting points like the blockchain hub at the World Economic Forum, funded by Casper Labs and CV Labs, further alluded to the industry's mission of continuing to build, innovate and educate. 
The blockchain hub gave experienced and new crypto enthusiasts the chance to congregate and listen to experts in the field discuss the benefits that blockchain technology can offer to consumers and the global community. The audience was treated to a variety of topics. Days 1 and 2 focused on the current crypto markets' outlook, increasing enterprise adoption amid ongoing economic uncertainty, reestablishing confidence in digital assets, and the convergence of DeFi and CeFi.
Days 3 and 4 shifted gears to the future with the appropriate theme, "futurist forum." This included thoughtful discussions on how to rethink NFTs so businesses can adopt them and use them to create new value. The metaverse and web3 gaming's future were also discussed, along with blockchain's application in the fashion industry. 
BILLION DOLLAR OPPORTUNITY🎯

Extraordinarily insightful conversation on monetizing NFTs for businesses at @wef💡

Thank you @Niamhjoc, @WISeKey's @CreusMoreira, @MetaMask's Nimantha Siriwardana, @dmusic_io 's Esteban van Goor, Lars Kalkdijk.#BlockchainHubDavos #Davos2023 pic.twitter.com/9VMqaHa9zl

— DroomDroom (@0xDroomDroom) January 19, 2023
"Blockchain couture – you can dress phygitally! Blockchain is disrupting the fashion industry – democratizing the opportunity for global designers and for consumers" – @AbramsGlobal #BlockchainHubDavos pic.twitter.com/2PHAxcAGvb

— CV Labs (@CV_Labs) January 19, 2023
An Emphasis on Regulation 
Innovation, growth, and education were key themes that emerged from our conversations at the World Economic Forum. Another key theme was regulation. In light of the bear market and the FTX debacle, there was an emphasis on the significance of governments and regulators in shaping the future of cryptocurrencies. Many experts stressed the need for clear and consistent regulations that can provide the framework for crypto to thrive while protecting consumers from fraud and other risks.
Metaverse Adoption
We also witnessed a seismic narrative on the movement towards metaverse adoption. The launch of the Global Collaboration Village, the World Economic Forum's own metaverse platform, was announced. It claimed that more effective collaboration between world leaders would be possible in the digital world, created to resemble the real town of Davos. For many, however, the metaverse's future extends beyond a gamified version of reality. The web3 community echoed views that it could provide useful use cases for sectors like healthcare and retail. 
Closing Thoughts 
In Davos' sub-zero temperatures, as the cryptocurrency community battles its third grueling winter and bear market, we saw a well-known spirit of camaraderie, optimism, and a forward-thinking mentality. The need for regulatory clarity was ushered in by FTX. There is general agreement that government regulation is necessary for crypto to attract new investors and integrate with mainstream finance. However, the community is also concerned that overly strict regulations will stifle innovation and violate the decentralized nature of cryptocurrencies.
The fact that crypto is present at the World Economic Forum is a significant indicator of growth because it shows that the global financial and business community takes this new technology seriously. The exploration of ways to use blockchain technology and crypto assets to improve the transparency, efficiency, and security of traditional systems is a result of the realization that the crypto economy may have an impact on the future of finance and business operations.
In addition, it indicates an increasing acceptance and mainstream adoption of this new asset class and technology. This, in turn, could lead to new business and investment opportunities. As eloquently stated by SkyBridge Capital founder Anthony Scaramucci, "crypto is trying to establish its presence. There's nothing more establishment than the World Economic Forum." As the world continues to grapple with the implications of this rapidly evolving technology, it is clear that the World Economic Forum will continue to be an important platform for discussing and shaping the future of crypto and blockchain.