The total cryptocurrency market cap now stands at over $1 trillion dollars according to CoinMarketCap. Despite being a fraction of the size of traditional financial markets like the stock market or Gold's valuation, it is evident that adoption is rising. For many looking to participate in the crypto sphere, centralized exchanges have been the go-to point of entry. There are over 600 exchanges looking to push this industry forward. That said, some, more than others, have a long-standing affinity with the ecosystem with credible founders in the realm. Coinbase is one such entity bringing in new faces to this burgeoning sector.
Coinbase is the second largest centralized crypto exchange in terms of transaction volume and monthly visits. The platform enables investors to buy, sell, trade, and store a range of crypto assets. Coinbase also offers other crypto-related services, such as Coinbase Earn, an NFT marketplace, Advanced Trade, and a standalone non-custodial wallet.
Overview of Coinbase
Coinbase is a US-based cryptocurrency exchange established by Brian Armstrong and Fred Ehrsam in 2012. The platform is one of the oldest crypto exchanges and thus a pioneer in the space. Coinbase initially launched as a wallet to send and receive Bitcoin.
Since then, the platform has become the second-largest crypto exchange, offering seamless fiat-to-crypto on-ramp functionality for blue chip assets like Bitcoin, Ethereum, and various altcoins.
The company aims to make buying, selling, and holding crypto as simple as possible for investors. Therefore, you can expect to find a very simple layout. The instant buy and sell feature is also a great tool if you are looking for the easiest method of purchasing or selling crypto. That said, Coinbase also provides pro trading tools and different order types through an advanced trading platform.
The exchange is a fully licensed and regulated platform. In April 2021, the platform became the first ever crypto exchange to be listed on the NASDAQ as a publicly traded company. They thereby adhere to strict KYC rules and provide clarity through quarterly earnings and transparency reports. The company has raised over $498 million in funding from leading investors such as ARK Investment, Andreessen Horowitz, and Pegasus Tech Ventures to name a few.
Crypto Exchange
Coinbase has catapulted to become the second-largest crypto exchange due to its time-honored reputation, marketing, and beginner-friendly user interface. The platform currently hosts over 110 million verified users. The exchange is operational in over 100 countries with a steadfast approach to expanding crypto access to more countries.
If you are looking to use Coinbase, it is important to visit their website to know the list of countries where they provide their services and also keep an eye on their Twitter profile for any updates.
Supported Cryptocurrencies
With a 24-hour trading volume of over $1 billion dollars, Coinbase is a highly liquid crypto exchange. Users of the platform have access to trade 255 different cryptocurrencies. While this is sufficient for the average investor, if you are looking to find obscure, micro-cap altcoins, other exchanges like Binance or KuCoin, might be better suited for you.
Payment Methods
The exchange allows investors to buy cryptocurrencies with fiat and sell crypto back into fiat via several payment methods. While it must be noted that available payment methods vary between countries, the platform offers multiple payment methods such as ACH transfers from a bank account, debit card, wire transfer, PayPal, and country-specific payment systems.
Fee Structure
Like all cryptocurrency exchanges, Coinbase charges a trading fee. The fee structure on the platform varies depending on several factors. The amount of fees users pay will depend on the platform used (simple trade or advanced trade option), transaction amount, and payment method. The exchange charges a variable fee between 1.49% to 3.99% on its simple trade interface, depending on the payment method. For example, buying crypto via debit card payments incur the most expensive fees, whereas bank transfers are the most economical way of buying crypto on the simple trade platform.
The fee structure on the simple trade platform is expensive compared to other exchanges like Binance, which charges a fee of 0.1%. However, users can significantly reduce fees on the platform by using their advanced trade platform. Trading fees on the advanced platform use a maker-taker fee model, beginning at 0.60% and decreases according to a user's monthly trading volume.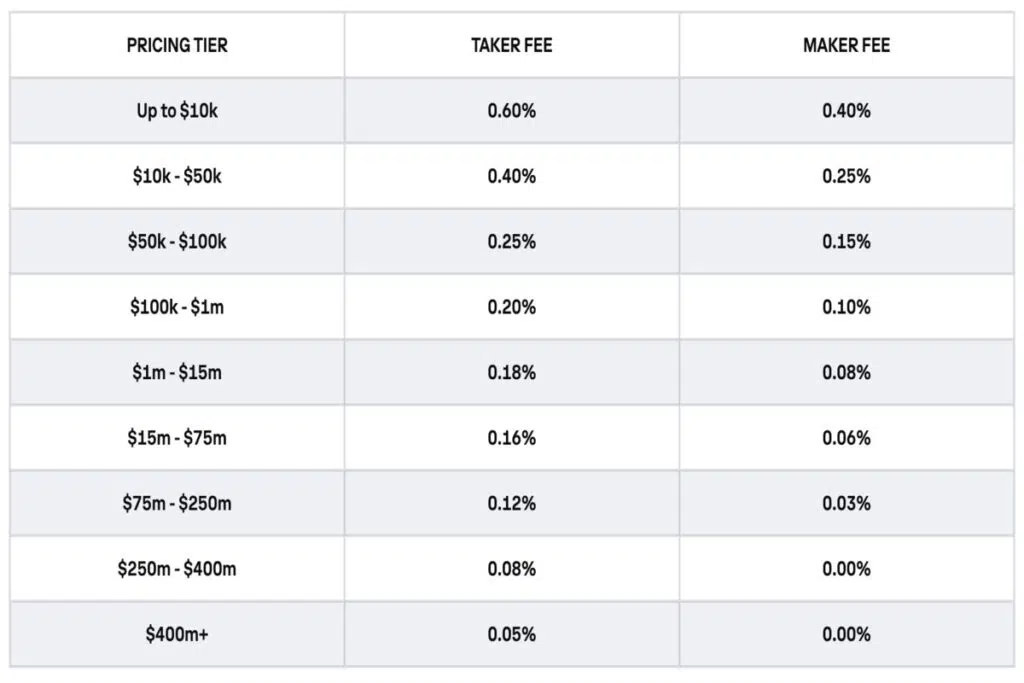 Security
The exchange has several security measures in place to safeguard customer deposits and assets. The platform stores 98% of customer assets offline in cold storage. Furthermore, they make two-factor authentication (2FA) mandatory for all account holders. Other security features include whitelisting withdrawal addresses and multi-approval withdrawals in Coinbase Vault.
It also must be noted that account holders from the United States are covered by FDIC insurance of up to a maximum of $250,000.
Advanced Trade
Advanced Trade, previously known as Coinbase Pro, is a trading platform for experienced traders. Therefore, if you are seeking advanced charting tools and order types, the Advanced Trade platform is the one for you. By offering this feature in tandem with the simplified platform, the platform reaches a target audience of both seasoned and new investors. It is recommended to use the Advanced Trade platform if you want to bypass the high fees found on the simplified platform.
Coinbase Earn
This feature allows you to earn staking rewards on select proof-of-stake cryptocurrencies. The platform streamlines the process for you by staking your assets and directly depositing rewards into your wallets. You can receive rewards of up to 6% APY depending on the chosen crypto to stake.
However, it must be noted that, currently, you can only stake a limited number of assets. Additionally, you will also have to pay a high commission for using the staking services. This can range between 35% and 25%.
Other Services Provided by Coinbase
NFT Marketplace
The company has also tapped into the growing NFT (Non-Fungible Tokens) sector by establishing its own aggregator marketplace in 2022. This move cements Coinbase as a holistic entity and ecosystem in web3.
Coinbase Wallet
Coinbase recognizes the need for self-custody in crypto by providing its standalone non-custodial wallet. This should not be confused with the Coinbase app which is a custodial wallet wherein your assets are managed by Coinbase.
Despite being a centralized exchange with safety measures in place, the exchange empowers self-sovereignty and highlights the dangers of keeping funds with intermediaries. By providing an option to completely own your private keys and assets, the platform once again emphasizes the need for security and best practices when storing cryptocurrencies.
Self-custody is a very important part of the cryptoeconomy – decentralize https://t.co/3tdcBeNbqd

— Brian Armstrong (@brian_armstrong) December 14, 2022
Pros and Cons
| | |
| --- | --- |
| Pros | Cons |
| Beginner-friendly user interface. | Complex and high trading fees. |
| An option for advanced trading for seasoned investors. | Limited staking options. |
| A variety of payment methods. | A lower number of supported altcoins and trading pairs compared to other exchanges. |
| Highly regulated exchange. | |
Closing Thoughts
Overall, Coinbase is an exchange platform pushing the crypto ecosystem forward. The company has not only attracted newcomers to the space through its easy-to-use platform but has also directly contributed to advancing the mission of a more decentralized future despite being a centralized entity itself. This is evidenced by the recent launch of Coinbase's Ethereum Layer 2 network, Base.
1/ 🔵 We're excited to announce @BuildOnBase.

Base is an Ethereum L2 that offers a secure, low-cost, developer-friendly way for anyone, anywhere, to build decentralized apps.

Our goal with Base is to make onchain the next online and onboard 1B+ users into the cryptoeconomy. pic.twitter.com/RmwZFJzGGs

— Coinbase (@coinbase) February 23, 2023
With a wide array of educational content, seamless on-ramp options, and an easily navigable application, Coinbase is a perfect option if you are looking to step foot into the cryptosphere.