Having a secure crypto wallet is important for anyone who is investing in the growing crypto market. Crypto wallets are basically pieces of software that allows the user to receive and send digital currencies. Finding the best crypto wallet can be hectic for beginners. With a multitude of options to choose in the market, hardware wallets are the most secure wallets but you cannot access them through your phone. Hence it is important to have an easy to use mobile wallet that is secure like the Trust Wallet.
To ensure security, cryptocurrency wallets store codes called private keys that need to match with a public key before the wallet owner can spend their money. Trust Wallet is an example of such a wallet.
Trust wallet is a multi-crypto wallet that is a non-custodial and decentralized application that helps users to entirely control digital assets like cryptocurrencies and NFT's. Trust wallet being Binance's official crypto wallet, it is a very secure and an open-source mobile wallet with multiple blockchains like Bitcoin,Ethereum, Solana and Binance smart chain among 65 blockchains and over 4 million crypto assets. Unlike other centralized wallets, the Trust wallet gives you access to decentralized applications that allows users to interact with DApps along supported blockchain safely.
Thrilled to announce that @TrustWalletApp is becoming a part of @binance!
Our focus and goal will remain the same – building a great product for our users.https://t.co/Z3ghz3n0tW pic.twitter.com/jYMHOG3iX0

— Trust Wallet (@TrustWallet) July 31, 2018
Trust wallet also gives you the opportunity to access a fully audited wallet with enough storage to stake, store, trade, receive and send all supported crypto assets. Read here to understand what crypto wallets are.
Prons
You can buy crypto with fiat
Stores multiple cryptocurrencies like BTC and ETH
You can have unlimited account
You can store NFT
Has DApps browser
Cons
Not available in desktop apps
DApp browser is unavailable in iOS
Keyphrase change and forgetting may lead to balance loss
Due to absence of cross-chains wap, swap feature is limited
Features of Trust Wallet
Simple to Use
Trust Wallet offers a very user-friendly interface that makes it easy to store and manage tokens from various blockchains. The interface is very easy to an extent that you can just figure out everything with a single look.
Secure and Safe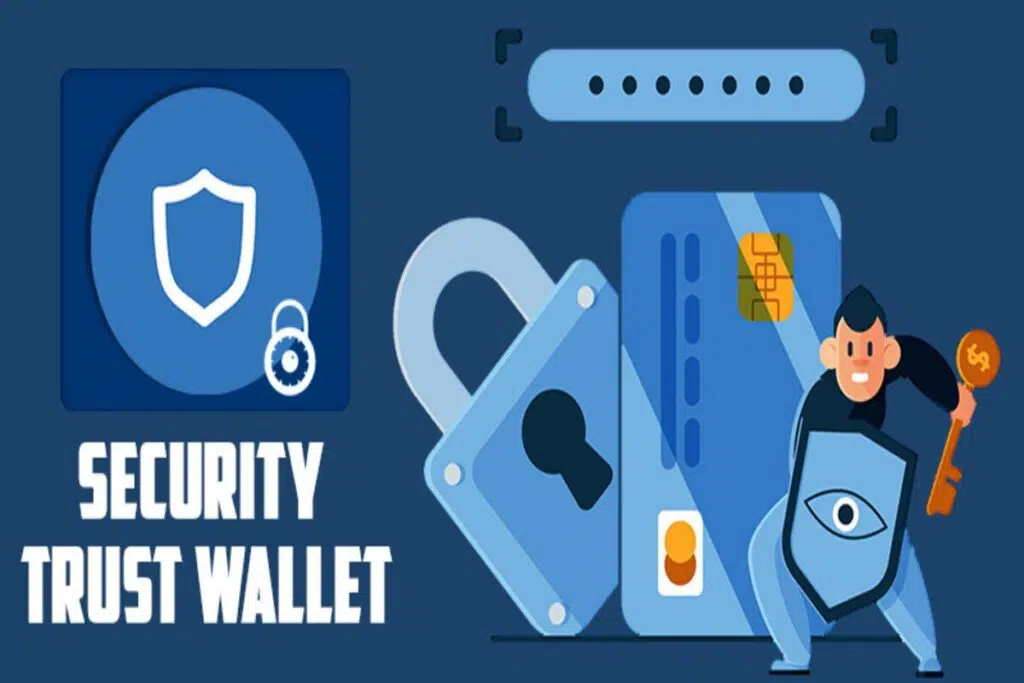 Trust wallet has issued security encryptions that are almost similar to that of a bank-level security. Trust wallet has security options for PIN and biometric configuration to enhance your security. Being a client based wallet, you remain in control of all your funds.
HD Wallet
Similar to other modern crypto wallets, Trust wallets have HD wallet whereby you don't have to get a backup of every pair of public/private keys. Moreover, you can just use the same wallet where it backs up everything in the background. However, the seed phrase is needed to be backed up inorder to restore your wallet when you lose access to the previous one.
Built-in Exchange
With an in-built Decentralized exchange service,users can exchange their tokens using the app. They are then integrated with Thorswap which will then let you make cross-chain swaps. You can then easily convert your Ethereum to Bitcoin Or Bitcoin to Ethereum without actually leaving your wallet interface.
Watch Other Cold and Hot Storage Wallets
You can add other crypto wallet addresses as a view only by a feature in your wallet. If you probably have your token stores in Metamask ethereum wallet, you just need to add the wallet address and you'll have the opportunity of seeing them.
DApp Browser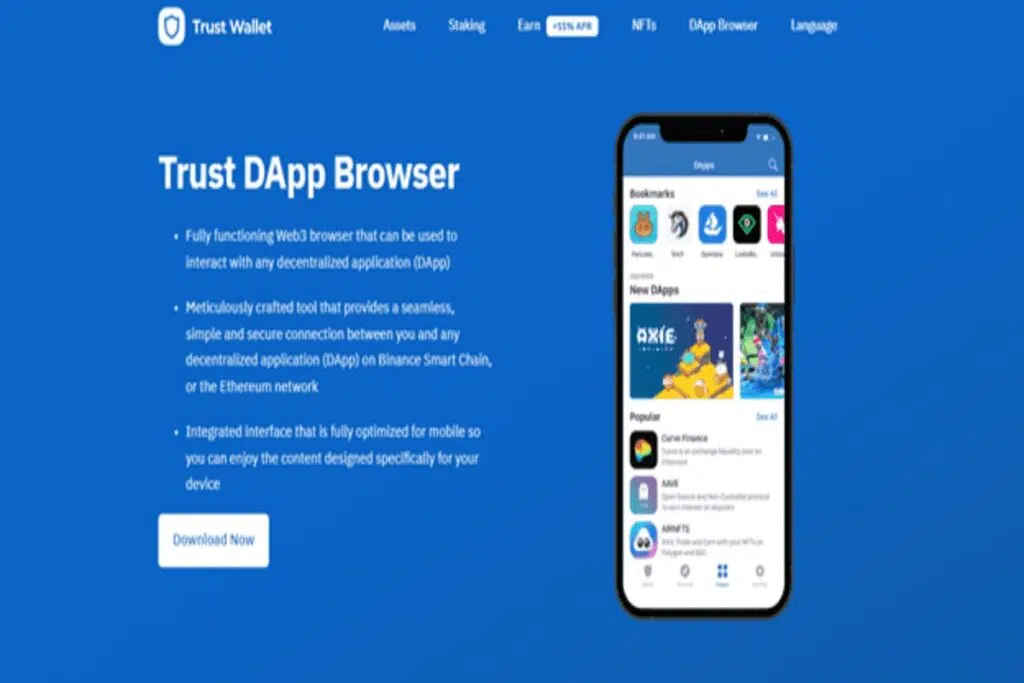 This is actually the most exciting feature in the wallet. By this, you have access to all web3 apps like Pancakeswap and Uniswap among others.
Supports Multi-Cryptocurrency: One of the key advantages is that the wallet supports more cryptocurrencies unlike other wallets that support ERC-20 tokens.
Flexible purchases: It enables users to purchase cryptos from third party platforms like MoonPay, Simplex and Wyre among others.
Staking and Rewards: You can now stake various selected cryptocurrencies through Trust wallet and earn rewards.
Flexible fees: It does not require any subscription nor does it need any fee for swaps and transactions in-app. However, users need to pay a similar network fee which may vary depending on the network congestion.
Major Cryptocurrencies & Blockchain supported by Trust Wallet
As mentioned, this wallet supports various cryptocurrencies and blockchains and you can store unlimited cryptos. Here are the major blockchains that are supported by the wallet:
How Can One Buy Crypto Using a Trust Wallet?
You can purchase crypto directly from the wallet itself. You do not require a third party exchange likeCoinbase or Binance to actually purchase crypto. Here is how to purchase;
Install Trust Wallet
You need to have the Trust wallet installed in your phone. To get your wallet on iOS, download the app from Apple Store or download the wallet on your android in Google Play Store.
Tap at the Buy button
Select the total asset that you intend to buy.
Insert the certain amount that you want to buy
After placing the exact amount, click continue and complete the payment.
Trust Wallet also allows crypto purchase by Visa and Mastercards as it is powered by Moonpay.
Is Trust Wallet Safe?
Entirely, the Trust wallet team's main goal is to provide better access to one's crypto in a non-custodial manner and allows users to perform various actions on a single app.
Trust wallet is considered one of the best and most secure hot wallets. Trust Wallet protects all online interactions by keeping your private keys secured with a bank-level type of security. It has prepared comprehensive security features in order to prove its worth in the market. Trust wallet has enabled FaceID, TouchID and conventional PINs that you need to input before accessing your wallet.
In addition, the Trust wallet safety depends on how you keep your mobile device and your recovery phrase safe.
Conclusion
One of the greatest cryptocurrency wallets overall and Money's top crypto wallet for mobile is Trust Wallet. Overall, it's a good option for anyone who wants to own their own cryptocurrency. There are practically no expenses associated with using the wallet, with the exception of DApps, and it is simple to move digital assets between wallets or the finest cryptocurrency exchanges.