The advent of NFTs has opened up new opportunities for creators to monetize their digital collectibles, art music, and more. For buyers, it has transformed the meaning of true ownership and self-custodianship of assets in the digital age. As a starting point, read this easy guide to understand the concept of NFTs and how they derive value. Now when we look at the rise of this sector, 2021 stands out as a transformative year for NFT projects. It catapulted the previously obscure world of NFTs into the spotlight. Since then, there has undoubtedly been a decline in NFT valuations with the downward price action of the overall crypto space. However, thanks to the transparency of blockchain technology and on-chain analytics, we see that the number of NFT holders continues to remain in a bullish uptrend as seen in the graph below.
The NFT sector has produced some notable blue-chip projects. This article looks into the top 3 NFT projects based on all-time trading volume.
Crypto Punks, Bored Ape Yacht Club and the Mutant Ape Yacht Club represent the three most traded and highly valued NFTs of all time.
CryptoPunks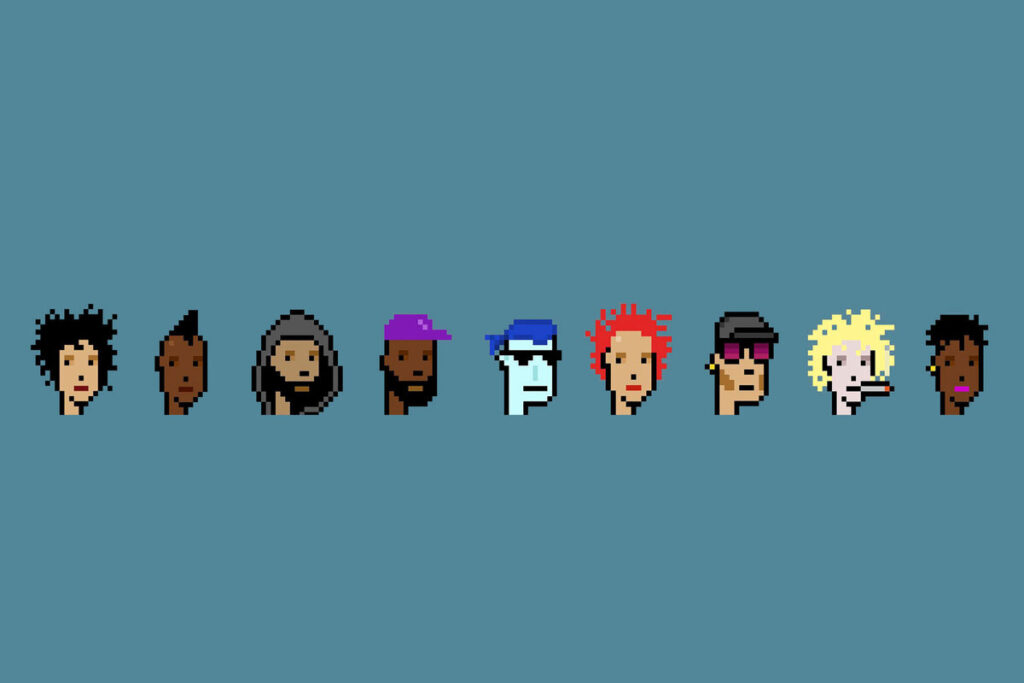 When it comes to NFTs, CryptoPunks is often considered a seminal NFT project that kickstarted the profile picture (PFP) NFT wave. Launched in June 2017 by Larva Labs, it is one of the earliest NFT projects developed on the Ethereum blockchain. The collection consists of a fixed supply of 10,000 unique digital collectible characters. Each CryptoPunk is a 24×24 pixel portrait with distinct attributes. Canadian software developers, Matt Hall, and John Watkinson created the collection as a tribute to the cypherpunk subculture. In March 2022, CryptoPunks was acquired by Yuga Labs, the creators of other leading NFT projects mentioned in this article such as the Bored Ape Yacht Club, and the Mutant Ape Yacht Club. This acquisition has cemented Yuga Labs as a dominant NFT, metaverse, and Web3 ecosystem player.
Some big news to share today: Yuga has acquired the CryptoPunks and Meebits collections from @LarvaLabs, and the first thing we're doing is giving full commercial rights to the NFT holders. Just like we did for BAYC and MAYC owners. pic.twitter.com/lAIKKvoEDj

— Yuga Labs (@yugalabs) March 11, 2022
CryptoPunks could originally be acquired for free, barring a nominal transfer fee. Since 2017 however, the collection has evolved into a cultural phenomenon that points to the early days of the NFT movement. This contextual significance and supply scarcity have led to it becoming one of the most valuable pieces of NFT art. Moreover, some CryptoPunk portraits are more treasured than others based on their rare attributes or features.
Why are CryptoPunks so expensive?

CryptoPunks are a status symbol in Web3.

Some view their cultural significance as a vote of confidence in NFTs and the Ethereum blockchain itself.

Early collectors became millionaires, attracting more buyers hoping for a repeat. 🌟

[5/7] pic.twitter.com/NLIzFIBChD

— nft now (@nftnow) April 27, 2023
As many as eight NFTs from this collection are on the list of the largest NFT sales recorded to date. CryptoPunk #5822 is the largest sale that went for a whopping $23.7 million in February 2022.
CryptoPunk #5822 just sold for an all-time high 8,000 ETH ($23.7M USD) 👀 pic.twitter.com/SZktI530gU

— nft now (@nftnow) February 12, 2022
The easiest way for you to get your hands on a CryptoPunk is by visiting its official website. Here you will be able to see which portraits are up for sale and its floor price. As of this writing, the lowest price for a punk is 54.49 ETH, which equates to $100,551.48.
Bored Ape Yacht Club
Bored Ape Yacht Club (BAYC) is an Ethereum-based NFT project launched by Yuga Labs in 2021. It is a collection of 10,000 unique NFTs that depict one-of-a-kind anthropomorphic apes, each with distinct attributes and traits. Since its launch, Bored Apes have gone on to capture widespread notoriety through celebrity purchases, endorsements, and partnerships with mainstream brands such as Adidas and Timex to name a few. The NFT project embodies the astonishing growth of this sector.
When the collection launched, a Bored Ape could be purchased for a mere price of 0.08 ETH which was worth around $190 at the time. A year later, the floor price grew to above 100 ETH or over $300,000. Some apes with rare traits were even sold for over a million dollars. BAYC's ascent into the spotlight soon led prestigious auction houses like Sotheby's and Christie's to sell the collection for exponentially higher prices.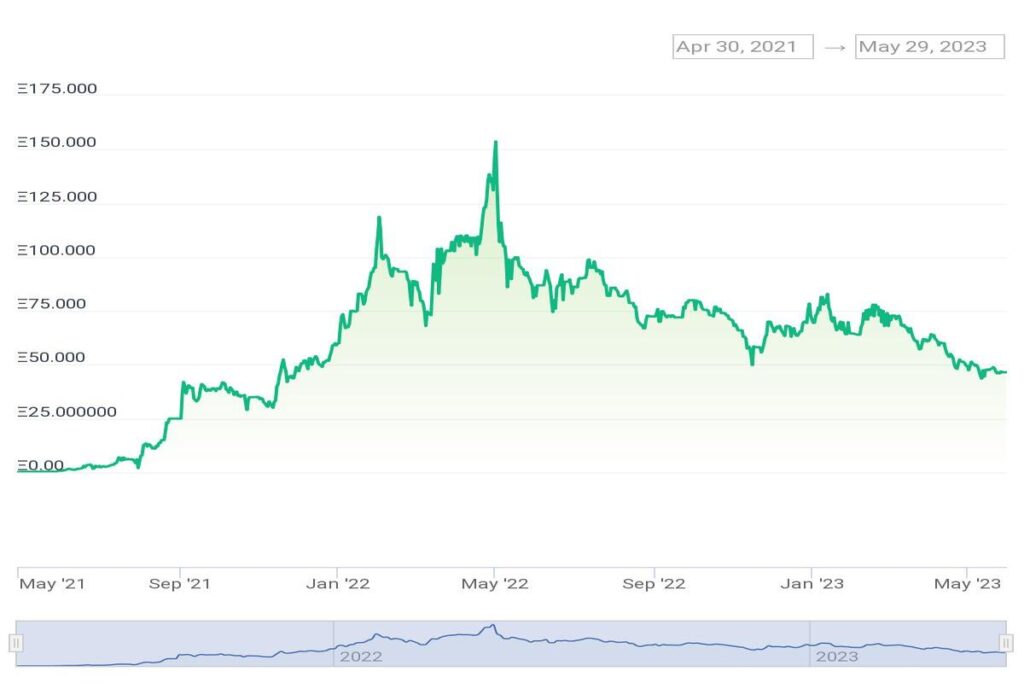 #AuctionUpdate #BAYC #8817 sells for a RECORD $3,408,000 USD! This is the first time it has been made available since it was minted. Less than 1% of all Bored Apes have the gold fur trait. From the collection of @j1mmyeth #NativelyDigital pic.twitter.com/HfFTpEOIUh

— Sotheby's Metaverse (@Sothebysverse) October 26, 2021
If you own a Bored Ape, it not only means that you are in possession of a unique collectible that symbolizes historic NFT art but also doubles up as a ticket to a members-only community. Being a member of this club comes with exclusive perks such as limited edition merchandise, real-world events, and the ability to mint other Yacht Club-themed NFTs such as the Mutant Ape Yacht Club and Bored Ape Kennel Club for free.
BAYC holders also have complete intellectual property rights to their NFTs. This includes commercial rights and the ability to monetize from it. The Bored Apes collection, therefore, derives its value from beyond its aesthetic qualities and limited supply. BAYC is now a landmark cultural phenomenon and owning one epitomizes NFT royalty and high-status.
The floor price of a Bored Ape currently stands at 46.5 ETH (>$88,400). You can purchase one on an NFT marketplace such as OpenSea and Blur.
Mutant Ape Yacht Club
The Mutant Ape Yacht Club (MAYC) is another popular NFT project launched by Yuga Labs. It is an extension of the BAYC project. MAYC was launched in August 2021 with the aim of expanding the Yacht Club ecosystem by inviting new members to join the prestigious community. It is a collection of 20,000 mutant ape-themed NFTs of which 10,000 were allocated to existing BAYC holders.
Apart from its scarce supply, This NFT project also gets its value from simply being associated with a well-known and established active community. Like most other NFT projects, rarity is often associated with higher prices. Therefore, some Mutant Apes cost more and are highly sought after than others. To identify a specific Mutant Ape's rarity level, you can search for its attributes and traits on marketplaces like OpenSea.
There are two ways of acquiring your own Mutant Ape. One method is by purchasing a Bored Ape and using the mutant serum (Mutant vials were airdropped to existing BAYC holders and this serum was used to create their additional Mutant Ape by way of a smart contract). While this method will mean that you will be in possession of both a Bored Ape and a Mutant Ape, it would also mean spending an exponentially higher price. The second method is through the traditional route of buying a Mutant Ape on a secondary NFT marketplace.
If you are looking to buy an item from this NFT project, the least expensive Mutant Ape on OpenSea currently is listed at 9.36 ETH or $17,781.
Conclusion
It must be noted here that the top NFT projects listed in this article are all Ethereum based. With other NFT blockchains making strides, new blue chip projects on these other blockchains will inevitably gain wider traction.
We have already seen thriving NFT projects and ecosystems on blockchains like Solana. Moreover, the recent surge in Bitcoin NFTs is another indication of how quickly narratives and trends materialize in this space. Therefore, it stands to reason that other NFT projects could very well replace this list in the future.