NFTs have exploded into the limelight since the 2021 bull market. Projects like the Bored Ape Yacht Club and Crypto Punks collection influenced the surge in popularity of this asset class. NFTs represent a paradigm shift in the way individuals authenticate assets. Numerous NFT marketplaces have emerged in response to the increase in demand for these digital assets. These marketplaces are the stepping stones to the world of NFTs. Marketplaces offer a platform for creators to showcase their artistry while serving as the preliminary step for collectors looking to buy and sell digital assets.
Dedicated marketplaces like OpenSea, Blur, Rarible, SuperRare, and Nifty Gateway are among the most popular platforms to trade NFTs. Centralized cryptocurrency exchanges like Binance and Coinbase, each of which has its own platform for trading NFTs, are other top NFT marketplaces.
NFT Marketplaces Explained
Understanding how these platforms work is essential before exploring the top NFT marketplaces. An NFT marketplace is an online platform to mint (create), buy, store, and sell NFTs. There are a few necessary requirements and setup procedures in order to create or buy NFTs on such marketplaces. This includes:
Setting up and connecting a crypto wallet: Crypto wallets are essential for facilitating transactions and paying fees on NFT marketplaces. Additionally, connecting a crypto wallet essentially serves as a key that enables users to log into the platform. Before buying an NFT, it is vital to recognize the NFTs blockchain network and accordingly select a wallet that is compatible with the blockchain. For example, buying or selling an NFT based on the Ethereum blockchain will require a compatible Ethereum wallet, such as MetaMask, and the native token, Ether (ETH). To learn about the top NFT blockchains, read this article.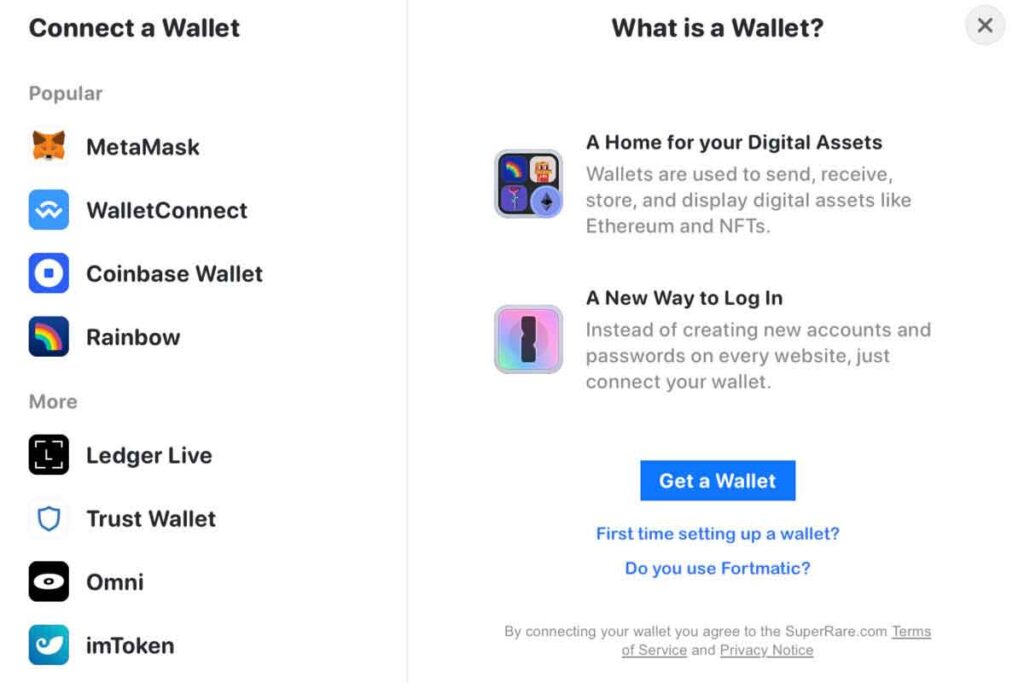 Adding cryptocurrencies to the wallet: In order to facilitate trades and pay transaction fees, individuals must fund their wallets with cryptocurrencies. In addition to understanding the underlying blockchain on which an NFT is created, it is critical to be aware of which cryptocurrencies are accepted in each marketplace. The easiest way to buy crypto is through centralized exchanges. Once this is done, the purchased crypto can be transferred to the user's personal crypto wallet.
Setting up a user account: Individuals can set up their user profile on the platform once the crypto wallet is connected or linked to the NFT marketplace.
Top NFT Marketplaces
Before entering the NFT realm, it is crucial to understand the technology's defining characteristics which fuel its appeal and adoption. Read this article for a guide to all things NFT and for a comprehensive understanding of the NFT revolution. After covering what NFTs are and understanding the basics, it then becomes vital to select an NFT marketplace to start the journey.
In order to get the best experience, it is essential to know which NFT marketplaces have the widest selection of digital assets, lowest fees, and most secure transactions while keeping in mind reputation, community, and support. Weighing up these options will help beginners get used to participating in the rapidly evolving world of NFTs.
More to read : The Ultimate Guide to NFTs: The Future of Digital Ownership
OpenSea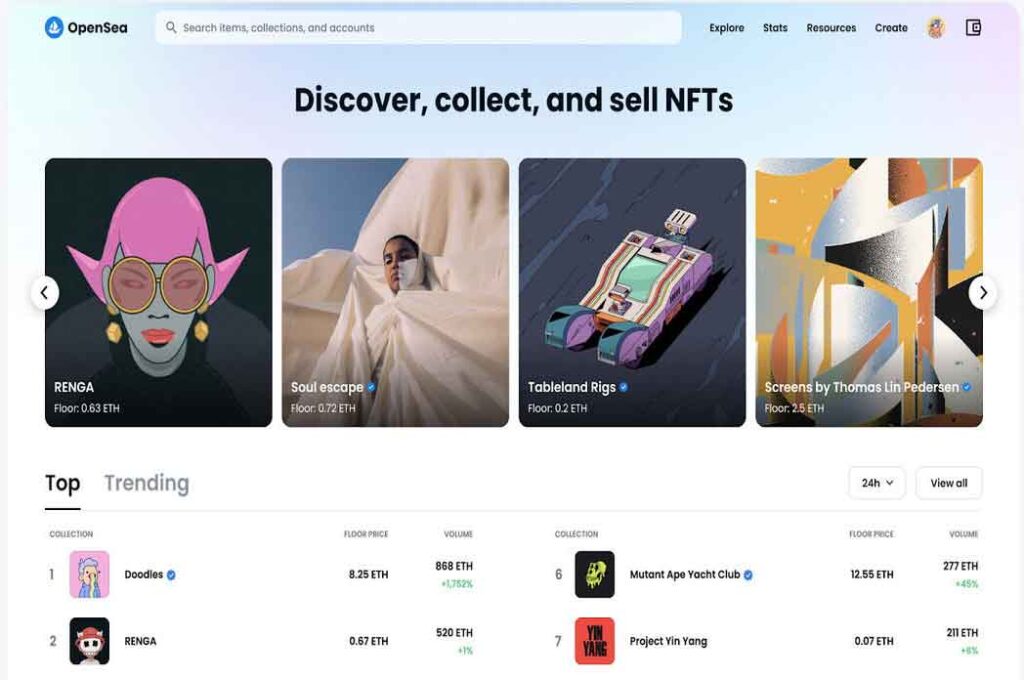 OpenSea holds the position as the most popular and widely used NFT marketplace. Launched in 2017 by Devin Finzer and Alex Atallah, OpenSea represents one of the earliest and seminal Ethereum-based platforms to create, buy and trade NFTs. In terms of the number of traders using the platform, OpenSea remains in the top spot. DappRadar reports that, on average, over 90,000 traders visit the platform on a weekly basis.
While initially being a platform to trade only Ethereum-based NFTs, OpenSea has now extended support to several other NFT blockchains. This includes Polygon, Solana, Arbitrum, Avalanche, Binance Chain, Optimism, and Klaytn. Furthermore, OpenSea offers a wide range of NFT options that cater to several sub-niches. This includes collectibiles, in-game items, artwork, virtual real estate, and the ever-popular PFP (Profile Picture) NFTs.
In addition to the gas fees for minting or creating NFTs, OpenSea typically charges a transaction fee of 2.5% to the seller. However, in response to increasing competition from marketplaces like Blur that offer zero-fees, OpenSea has followed suit by cutting their fee structure to a 0% model for a limited period.
We're making some big changes today:
1) OpenSea fee → 0% for a limited time
2) Moving to optional creator earnings (0.5% min) for all collections without on-chain enforcement (old & new)
3) Marketplaces with the same policies will not be blocked by the operator filter

— OpenSea (@opensea) February 17, 2023
OpenSea allows NFT creators the option to set artist royalties of up to 10%. Therefore, the maximum royalty an artist can earn and receive for each sale of their NFT is 10%.
OpenSea is a perfect marketplace for NFT enthusiasts, regardless of their level of experience in the space. This is thanks to its user-friendly interface, large repository of educational resources, broad variety of NFTs and a seamless method for artists to create and list new collections on the marketplace.
Blur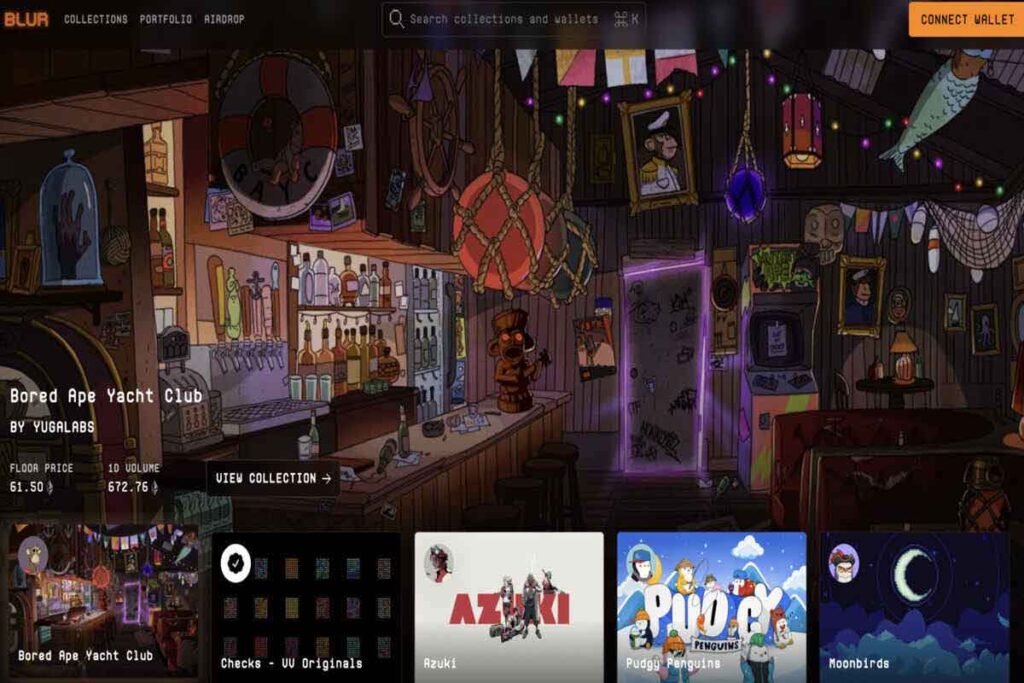 Blur is a new entrant in the NFT marketplace landscape. The new Ethereum-based platform launched in October 2022 by Tieshun Roquerre, also known as Pacman, has already made waves in the NFT industry. Blur is an aggregator platform that offers NFT listings from other marketplaces like OpenSea, LooksRare, and X2Y2 while enabling users to list their assets natively on Blur.
Blur has surpassed OpenSea to be the leading platform in terms of trading volume. It currently has a staggering monthly trading volume of over $1.6 billion compared to OpenSea's volume of over $400 million. The recent surge in trading volume on the platform can be attributed to a number of factors. One of the main reasons is its 0% fees for selling NFTs and optional royalties feature, making it more affordable than its competitors.
Interesting trend:

For the first time ever, Blur is now doing more ETH volume than OpenSea on NFT trades *where the buyers hold the NFTs and don't flip*

(1/2👇) pic.twitter.com/FuSb9Fs2t3

— NFTstatistics.eth (@punk9059) March 8, 2023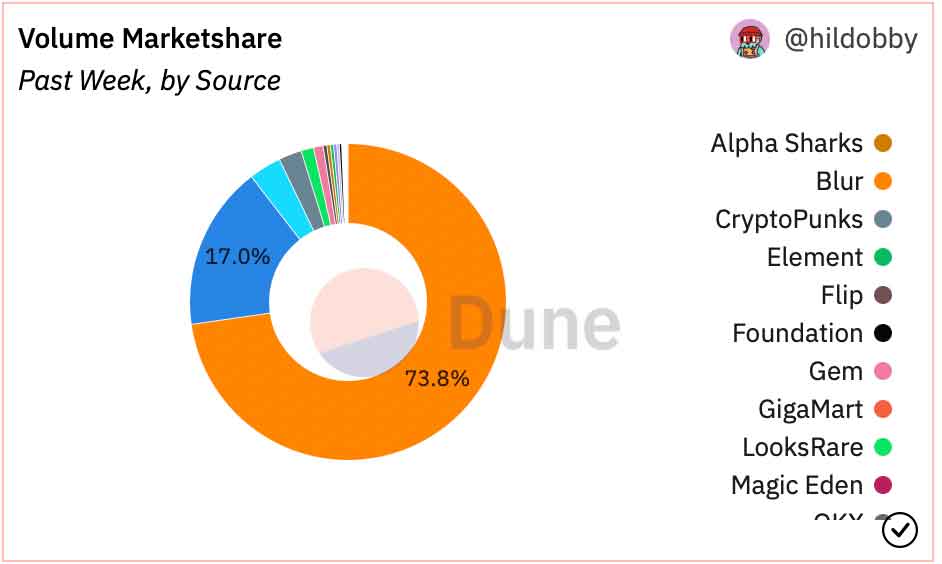 The recent airdrop and launch of the platform's native governance token is another factor that has driven the rally in trading volume. The Blur token bolsters the decentralization of the marketplace by giving control into the hands of the community. Despite making NFT artist royalties an optional feature, the platform aims to achieve a fair balance between creators and traders by incentivizing traders to pay royalties in exchange for extra blur tokens.
NFTs attract buyers ranging from dedicated collectors to fast-moving pro traders seeking to make a quick profit. Blur has tapped into the trader community by adopting the zero fee and optional royalty approach. However, the adoption of optional royalties has spurred heated debates within the NFT community. Some contend that this action deprives creators of their right to fair compensation, which could hurt marketplaces that prioritize sales over creator royalties.
The artist royalties debate rages on. Where do you fall?

Are creator royalties a hinderance to NFT liquidity and trading? Or are they a quintessential part of what enables a healthy web3 ecosystem?

How do you want to see platforms addressing this issue? https://t.co/8L5rSbys7w

— Outland (@outland_art) November 7, 2022
i think the creator royalty argument is actually a lot simpler than people make it out to be.

There is ZERO way to FORCE royalties technologically so creators will have to build a collector base that WANT to honor these royalties…. It's really that simple. 🤷

— beeple (@beeple) August 13, 2022
Nevertheless, the community-driven approach and the strategy of targetting a specific demographic of traders has undeniably accelerated Blur as a top NFT marketplace.
SuperRare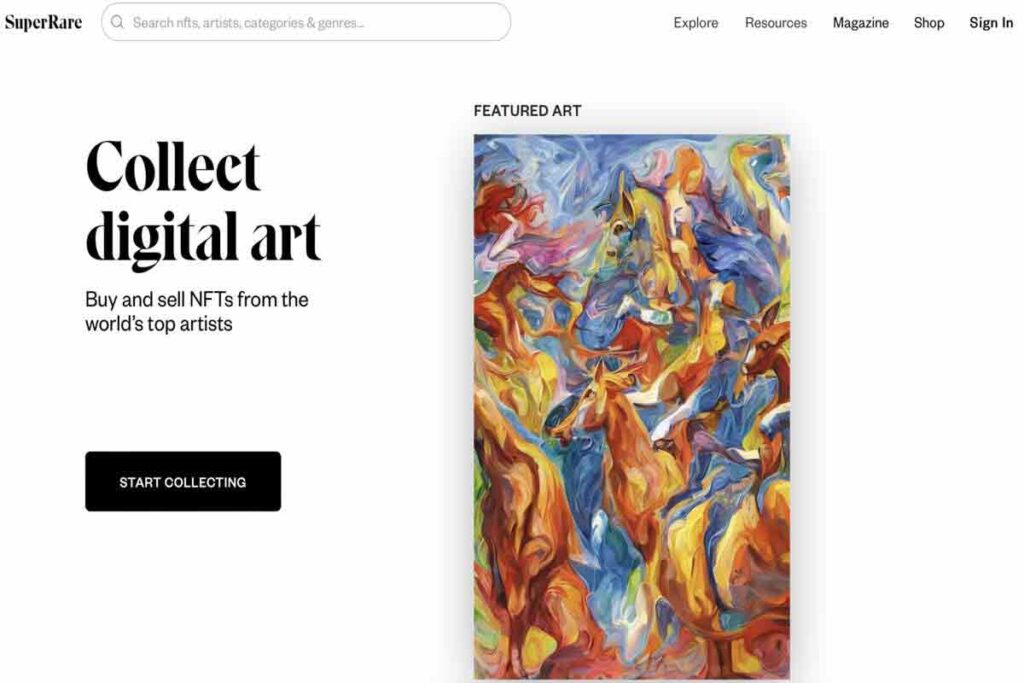 SuperRare was launched in 2018 and positions itself as a digital art market on Ethereum. SupeRare has carved a niche for itself as the go-to NFT marketplace for trading unique, single-edition digital artworks from verified creators. Each NFT showcased on the platform is meticulously handpicked by the team at SuperRare to ensure that only quality items make it onto the marketplace. The type of artwork on the platform includes still images, 3d artwork, GIFs, and videos. Since SuperRare is only an Ethereum-based platform, users must have an Ethereum-compatible wallet and ether (ETH) to purchase the art on offer.
As the art pieces sold on the platform are one-of-a-kind, the transaction fees charged by SuperRare are on the higher side. Buyers will pay a 3% transaction fee when purchasing art, and the creator will pay a 15% commission to the platform. When NFTs are resold in the future, the artist will receive 10% in royalties every time their art sells.
The marketplace has its own native token, RARE. By offering tokens to its users, SuperRare hands over ownership and governance of the network to the community, thereby fostering the ethos of decentralization in web3. RARE token owners form the SuperRare DAO and have the opportunity to curate the marketplace, set listing criteria, and influence platform upgrades.
Rarible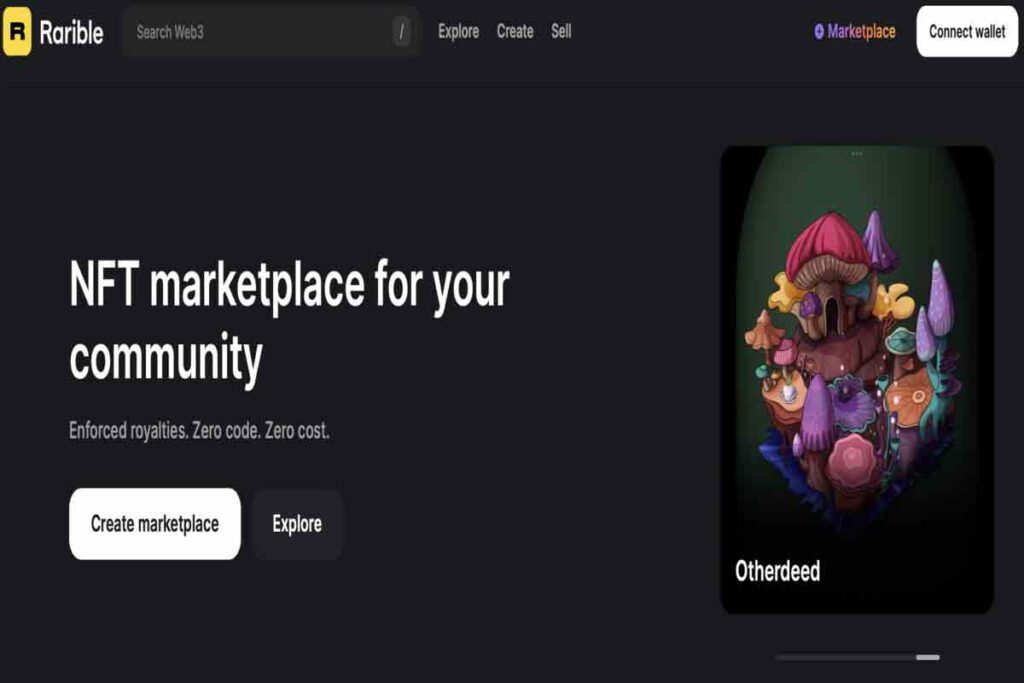 Rarible is another highly-rated NFT marketplace for beginners and experienced collectors. The platform was launched in early 2020 by Alexei Falin and Alexander Salnikov. The marketplace offers a whole host of NFTs available across several supported blockchains such as Ethereum, Flow, ImmutableX, Polygon, Solana, and Tezos.
In addition to operating as a marketplace of its own, Rarible also functions as an aggregator platform, enabling users to purchase NFTs from other marketplaces through the Rarible interface. Furthermore, given the multi-chain support, the NFTs available on Rarible expand across several categories or sub-niches such as collectibles, art, gaming, and virtual worlds.
Rarible charges a 1% transaction fee for both the seller and the buyer. In terms of royalties for NFT artists, the Raribile platform honors royalties on all transactions. NFT artists are allowed to set their own royalty percentages since Rarible sets no upper limit. The platform has decided to remain neutral in this regard by allowing the market to determine what constitutes a fair royalty rate.
The marketplace also pioneered the concept of governance tokens in the NFT space by launching its native token, RARI, in July 2020. Token holders can vote on platform upgrades and participate in content curation.
The community-driven platform also places NFT creators at the forefront. Apart from upholding creators' royalties, the marketplace also offers a seamless NFT minting process. Moreover, artists can use the platform to create entire personalized marketplaces for their NFTs without paying any commission or platform fees. As coding knowledge is not required, this is especially appealing to NFT creators entering the space.
Nifty Gateway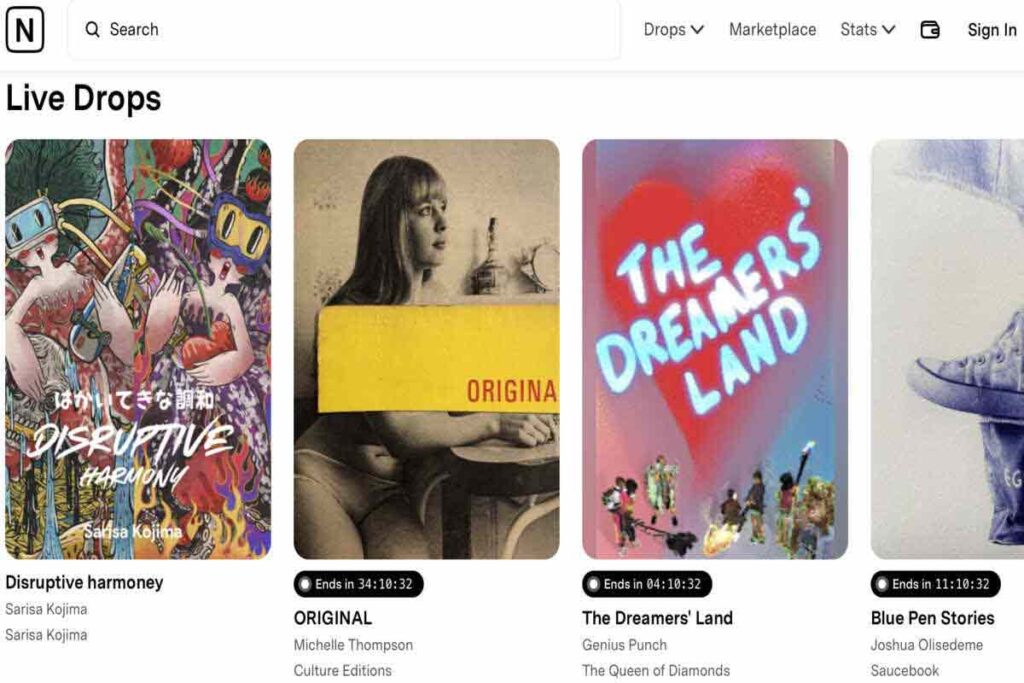 Nifty Gateway is an NFT marketplace built on the Ethereum blockchain and was launched in 2018. The crypto exchange, Gemini, owns the platform, and its unique selling proposition is exclusivity. All NFTs listed on the platform are subject to a meticulous review process that are only available on the platform and no other marketplace. Therefore, the platform focuses on curated, limited-edition NFTs for more experienced collectors.
While the platform only hosts a few educational material for new investors, it does offer fiat payments through credit and debit cards in addition to purchases using Ether (ETH). This makes NFTs more accessible to those uninitiated in the crypto sphere. However, it must be noted that the fiat on and off-ramp functionality remains available only for U.S. bank account holders.
The marketplace charges a 15% transaction fee for buying NFTs, with 5% allocated as a service fee and 10% paid as a royalty to the artist. The exclusivity of the artwork on offer, coupled with the relatively high fees, makes Nifty Gateway an elite NFT market for seasoned collectors.
NFT Marketplaces by Crypto Exchanges
Popular crypto exchanges like Coinbase and Binance have entered the NFT realm by establishing their respective marketplaces.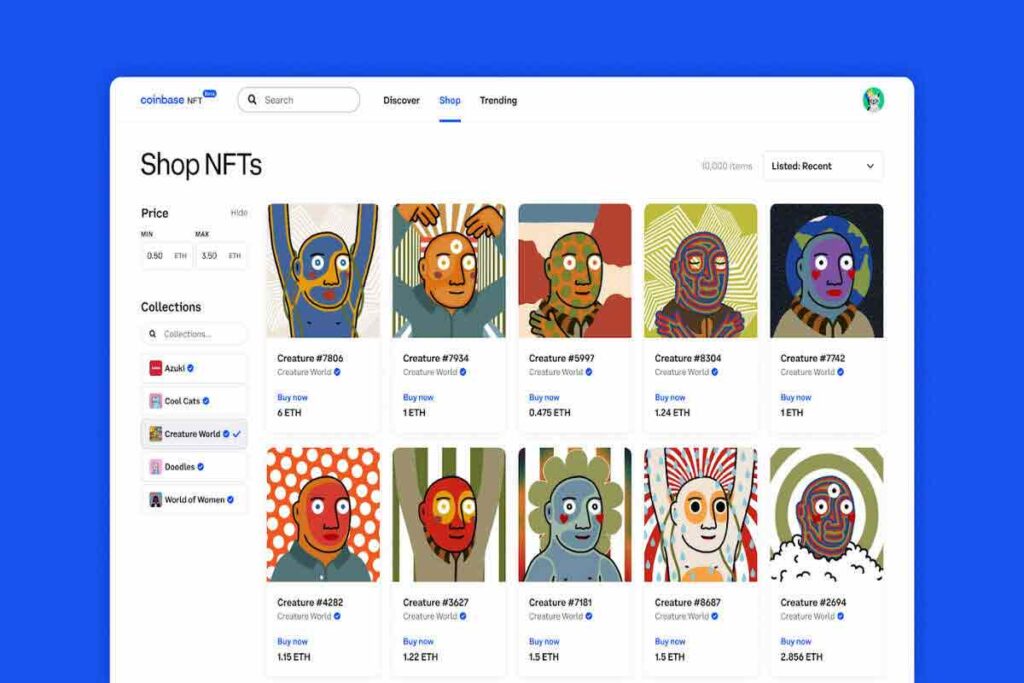 Coinbase: Coinbase launched its NFT marketplace in April 2022 for creating, buying, and selling NFTs. The platform is an aggregator platform, enabling users to discover the best prices for their NFTs across various marketplaces. The platform also offers 0% trading fees for a limited time. The marketplace currently supports Ethereum-based NFT projects, with support for additional blockchains coming to platform in the future. Users do not need to create a coinbase account to enter the marketplace and can begin trading by linking or connecting their Ethereum-compatible wallet.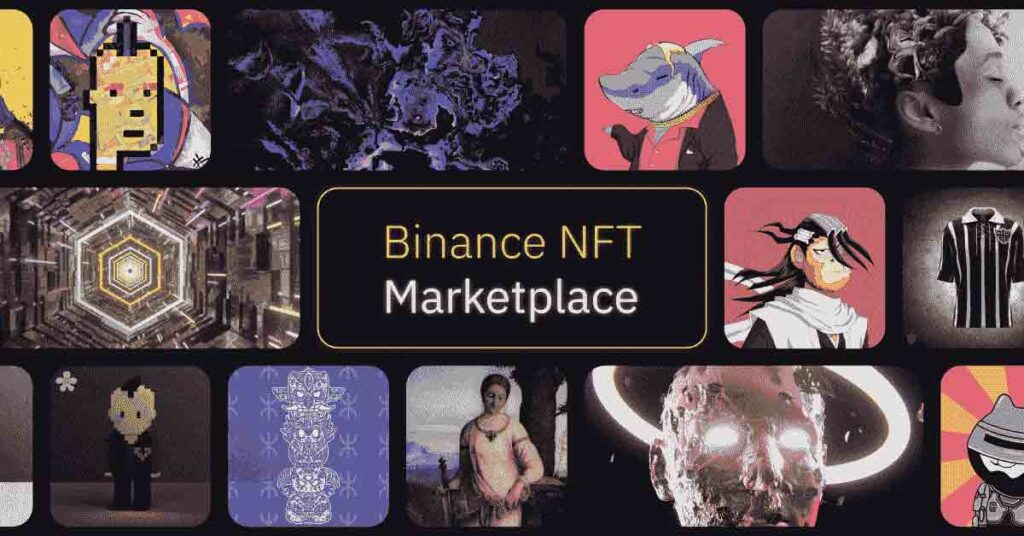 Binance: The largest crypto exchange, Binance, entered the NFT market in 2021. Much like coinbase, the Binance NFT marketplace operates as an aggregator platform. However, Binance's platform provides multi-chain integration by supporting NFTs on the BNB chain, Ethereum, and, most recently, Polygon. Binance sets a trading and listing fee of 1% on all transactions. Users must create a Binance account to begin interacting with its NFT marketplace.
Closing Thoughts
The NFT sector has experienced grown tremendously over the last few years. The demand for this rapidly evolving technology is not dissipating, and, as a result, new marketplaces are arising to cater to individuals looking to get involved. Therefore, while this article has provided a guide to the top NFT marketplaces, it is critical that individuals continue to be aware of trends in the NFT space as new marketplaces appear on a regular basis.