Cryptocurrencies are notorious for their volatility and its uniqueness in being a 24/7 marketplace. The constant price fluctuations can make it very easy for individuals to fall into the trap of basing their trades on human biases. Fear, greed, and uncertainty can cloud judgment and lead to poor trading choices. To mitigate this risk and monitor crypto exchanges around the clock, crypto trading bots that automate trades have emerged as an innovative solution.
Crypto trading bots are automated software programs that execute buy and sell orders on behalf of traders based on pre-defined rules and strategies. By automating the trading process, crypto trading bots effectively remove manual intervention thereby seeking to minimize human error. Some of the top crypto trading bots include 3commas, Cryptohopper, Pionex, Coinrule, and Bitsgap.
What are Crypto Trading Bots?
The fast-paced crypto market can undoubtedly generate extraordinary returns for traders. However, losses and bad trades are just as common. Even the most seasoned investor can succumb to psychological biases when trading cryptocurrencies. To learn about some of the most common cognitive factors that impact successful crypto trades, check out the article below:
Recommended read: Psychology in Crypto: How do Cognitive Biases Impact Successful Investments?
Furthermore, as covered in a previous article, the cryptocurrency sector is drastically different from traditional financial markets like the stock market. Price volatility and the lack of a closing bell can make manual trades a tedious affair for any trader. Therefore, traders are constantly on the lookout to identify strategies to maximize their profits. Fortunately, the rise of crypto trading bots removes a lot of the grueling work of the crypto trader.
Crypto trading bots are programmed software that can buy, sell and hold cryptocurrencies. There are different types of crypto trading bots on the market currently. These bots perform a variety of automated trading strategies.
Some of the most popular types of trading bots include trend trading bots, arbitrage bots, market-making bots, coin lending bots, scalping, and DCA (dollar cost averaging) bots.
While these trades are executed automatically, trading bots require an initial manual intervention from the user to set and fine-tune parameters that guide how the bots operate. These parameters can include triggering buy or sell orders based on technical indicators like moving averages, RSI (Relative Strength Index), or MACD (Moving Average Convergence Divergence).
Users can also tweak other factors like buy and sell thresholds, trade size and stop loss levels. By adjusting these parameters, you can optimize the bots' trading strategy to fit your risk tolerance and trading goals.
Types of Crypto Trading Bots
Crypto trading bots come in various forms. Some popular platforms like 3commas and Cryptohopper connect and interact with crypto exchanges via API (Application Programming Interface). The API allows the software program to execute trades on the user's crypto exchange when market conditions meet the set of predefined criteria.
Other platforms like Pionex operate as a crypto exchange with an array of in-built trading bot features. The rise in popularity of these automated solutions has led some of the largest crypto exchanges like Binance and KuCoin to incorporate basic bots onto their platforms.
By eliminating emotional biases and executing trades more efficiently, crypto trading bots can be powerful tools in a trader's arsenal. Moreover, given that bots can execute trades at any time following the predefined rules, you can theoretically make money in your sleep.
Considerations When Using a Crypto Trading Bot
However, It is important to note that bots are not a guaranteed path towards wealth creation nor are they a completely passive method of investing. Setting up the predefined rules requires a good understanding of technical analysis and the fundamentals of solid projects in the crypto space. The article below provides a useful primer on technical analysis:
Recommended read: Technical Analysis: A Path to Rewarding Crypto Trades
Therefore, the everlasting lesson of DYOR (Do Your Own Research) is pertinent even when using such automated services.
Advantages of Leveraging Crypto Trading Bots
Elimination of Emotional Bias
One of the biggest advantages of using crypto trading bots is that it removes some of the human error associated with trading. Crypto trading involves a high degree of mental fortitude. Novice and seasoned investors fall into common psychological biases that can cloud judgment and lead to losses or missed opportunities. Crypto trading bots are emotionless and automate repetitive tasks based on predefined logic. This negates emotionally-driven trading decisions.
What is Trading Psychology

Your emotional and mental states can cause you to succeed or fail in trading.

It's how YOU handle:
• Fear and Greed
• Hope and Regret
• Gains and Losses

Picking the right coins won't matter if you keep mentally rekt'ing yourself.

— Edgy – The DeFi Edge 🗡️ (@thedefiedge) July 2, 2022
24/7 Monitoring
Cryptocurrency markets operate around the clock. As a trader, manually monitoring price fluctuations 24/7 is highly improbable. Trading bots monitor the markets and execute trades even when traders are unavailable. This constant monitoring ensures that opportunities are not missed and that positions are managed effectively.
Risk Management
Crypto trading bots give users the flexibility to implement multiple trading strategies simultaneously. For example, traders can automate stop-loss orders at a certain price level to limit potential losses. Furthermore, trading bots can monitor and execute trades on multiple crypto exchanges and diversify investments across various crypto assets. This enables traders to spread their risk.
Top 5 Crypto Trading Bots
3Commas
3Commas is a cloud-based trading terminal and automated trading bot that was established in 2017. Like the majority of crypto trading bots, 3Commas software provides an interface that syncs with crypto exchanges that have a charting platform and order functionalities. 3Commas provides its automated bot services to 23 of the best crypto exchanges. The entire list of supported exchanges can be found here. 
Robust Manual Trading Options
After connecting with your crypto exchanges via API keys, you can use the platform to trade manually with enhanced features and integrate all your exchanges into a single interface. The platform's robust manual trading options dubbed Smart Trade offer advanced buy and sell strategies that are not found on traditional crypto exchanges.
This includes features such as concurrent take profit and stop loss, set multiple sell targets, and smart cover (a tool to sell coins, and then re-purchase them for a better price).
Automated Trading Features
3Commas trading bots are the primary attractor to the platform. There are a variety of trading bots and strategies available for investors at any experience level. This includes the DCA bot, grid bot, options bot, hodl bot, and smart bot. Beginners can select pre-configured bots or use top-performing bots created by other traders. Advanced traders can benefit from creating customized strategies.
Paper Trading Feature
3Commas also offers an exceptional feature called paper trading. This is essentially a demo account that allows users to test their strategies and bots before using real funds.
Pricing
The 3Commas platform offers a three-tiered subscription-based model. The packages differ based on the available manual and automated features.
While 3Commas offers a free plan, this package does not include the automated services the platform is known for.
Subscriptions range from $22 to $74 per month for the pro plan.
We recommend making use of the 7-day free trial to get used to the trading terminal.
Pionex
Pionex is a crypto exchange launched in 2019 with a substantial list of in-built crypto trading bots. Therefore, unlike the aforementioned trading bot services and others on this list, users need not hassle with API keys to connect to a separate third-party platform. Pionex offers its trading bots for free. All you pay is the minimal trading fee of 0.05% for all trades as you would on any crypto exchange.
16 Free Built-in Trading Bots
Pionex offers a versatile selection of 16 different trading bots. This allows users to experiment with various strategies. Some of the most popular bots include the grid trading bot, Dollar Cost Averaging (DCA) bot, rebalancing bot, and arbitrage bot.
Beginner-friendly Automated Trading Experience
Pionex simplifies the process of using crypto trading bots. It is a perfect platform for those looking to test out crypto trading bots without having to pay a subscription fee. Furthermore, without having to link your exchange account to another dedicated automated service, this makes the process of setting up your first automated crypto trade is extremely simple.
Cryptohopper
Cryptohopper is a pioneer automated crypto trading platform established in 2017. It is an automated trading bot service that currently works with 14 of the largest crypto exchanges like Binance, OKX, Huobi, Kraken, and KuCoin to name a few.
The platform has a large community of over 400,000 traders. Cryptohopper is popular for its plethora of automated features, simulated or paper trading service, and variety of technical analysis indicators for experts. It also hosts a large database of educational content in the Cryptohopper Academy.
Highly Customizable Trading Bot
From DCA bots to arbitrage bots, Cryptohopper offers a variety of trading bots that can suit any market condition. These bots can be configured to suit your trading strategy. Depending on the chosen subscription, you will have access to over 90 candlestick pattern recognitions and 30 unique technical indicators. You can use a combination of these indicators to trigger buy or sell orders autonomously and help determine your ultimate trading strategy.
Stay one step ahead in the crypto market with Cryptohopper's advanced trailing features. Trail price movements, secure profits, and never miss out on buying opportunities.

Take advantage of automated trailing strategies now: https://t.co/NuPnet3WT7#Crypto #CryptoTrading pic.twitter.com/O7C1w28h6D

— Cryptohopper (@cryptohopper) June 26, 2023
Social Trading Options
Another highlight of Cryptohopper is its social trading component through its copy or mirror trading functionality. This feature lets you subscribe to expert traders' bot strategies. In addition to purchasing bot templates, you can also interact and chat with other investors. All bot creators are thoroughly screened by Cryptohopper to ensure that only reliable and profitable bots are available.
Pricing
Cryptohopper uses a subscription model with four pricing tiers. The difference between the packages is the number of coins, positions, and triggers that can be set up.
The pioneer package is free but offers minimal features.
To make use of the automated features, users will have to subscribe to the paid plans that start from $19 to $99 per month for the hero plan.
Users can also make use of a 3-day free trial when signing up with the explorer plan.
Coinrule
CoinRule is another popular crypto trading bot that requires no coding experience to use. It can be connected to over 10 of the largest crypto exchanges including Binance, Coinbase Pro, Huobi, Bitmex, and others. The platform is extremely simple to use and its wide variety of templated trading strategies helps users to create and use the bots within minutes. Moreover, like other trading bot services, CoinRule also provides paper or demo trading functionality to its users.
User-friendly Interface
CoinRule offers a unique user experience by following an if-this-then-that logic. All parameters in the template strategies are clearly laid out and are selected using dropdowns. This makes it very easy to view all the options at a glance. Furthermore, the absence of complex trading jargon is highly beneficial to new users.
Plethora of Trading Templates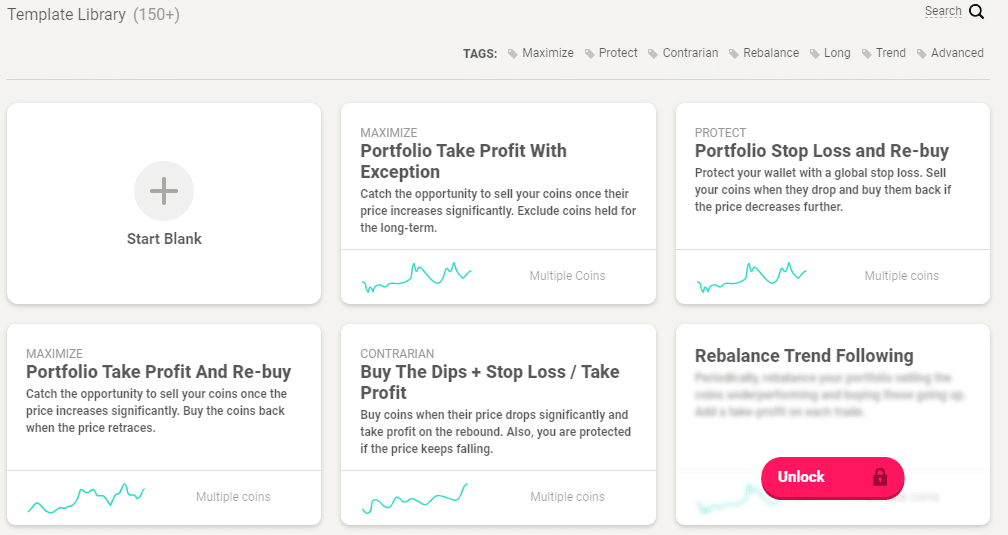 Depending on the chosen subscription, users will have access to over 150 trading templates. You can either choose to customize these templates to fit your desired trading strategy or use the template out of the box. Some of the popular trading bots include portfolio take profit and re-buy, buy the dips with stop loss and take profit.
Pricing
CoinRule has four subscription plans. The difference in price between the four plans is determined by the availability of features. This ranges from accessible trading templates and the number of connected exchanges to permitted monthly trade volume.
The starter plan is completely free and allows users to access 7 trading bots.
The hobbyist plan costs $29.99 per month.
The trader plan is priced at $59.99 per month.
The pro plan comes in at a whopping $499 monthly subscription, albeit, with the best and unlimited features the platform has to offer.
Bitsgap
Launched in 2017, Bitsgap is an exceptional trading bot platform that integrates with over 15 global cryptocurrency exchanges. Bitsgap is known for its DCA bot for long-term investors and its grid bot for profiting from small price fluctuations.
Features
Apart from its trading bots, the platform offers a demo mode for new users to test out the service and portfolio management across multiple exchanges. The backtesting functionality which evaluates a specific bot's performance to past market conditions is another useful tool for traders.
Pricing
While Bitsgap does not offer a free version, users can make use of a 7-day free trial to test out the platform. Bitsgap provides monthly subscriptions at three different tiers.
The basic plan costs $23 per month.
The advanced plan is priced at $55 monthly.
The advanced plan will cost you $119 per month.
Closing Thoughts
Crypto trading bots are not a zero-sum method of making it big as an investor nor is it entirely a passive income stream. While these services undoubtedly make life easier for a trader, due diligence and routine monitoring of market trends are paramount for profiting in this fast-moving sector.
Furthermore, understanding the nuances of crypto volatility, technical analysis, and the fundamentals of promising projects are key to success.
To learn more about the factors that contribute to crypto's volatility, read this article: Why Is the Crypto Market Volatile? 5 Factors Affecting Price Swings
Crypto bots are revolutionary in that they eliminate emotions from trading. The trading bots mentioned in this article provide a multitude of strategies for profitable trades whilst mitigating losses. They are very useful for performing repetitive tasks when configured correctly by the user.
Just like the crypto market, crypto trading bots are in their nascency. Advanced trading bots are emerging with machine learning and artificial intelligence capabilities. This will further bolster historical price analysis with less manual intervention. It will be interesting to see how traders use these automated services as a supplementary tool as part of their broader, well-diversified investment strategy.