In the fast-paced crypto world, the volume of information available can make it difficult for participants or investors to filter out the noise. For active investors in the space, monitoring price fluctuations, rebalancing portfolios, and performing thorough due diligence on crypto projects through fundamental and technical analysis is vital for long-term success. On the other hand, participants looking for a passive way to generate wealth through crypto airdrops must utilize the right tools to find the next profitable opportunity early.
Fortunately, the growth of the crypto industry has spawned a number of resources for investors looking to participate in airdrops. Convenient aggregator platforms like Airdrop Alert, Airdrops.io, and CoinMarketCal provide a foundation for scoping upcoming crypto airdrops.
Passive Income Through Airdrops
In essence, crypto airdrops are the free distribution of crypto tokens by projects to their users and participants in an effort to increase awareness of the project. It is a comprehensive marketing approach used by cryptocurrency ventures hoping to generate adoption and capture mindshare in a competitive marketplace of over 22,000 other cryptocurrencies.
Promoting projects on social media platforms may be necessary to participate in certain types of crypto airdrops. Although these airdrops may require a degree of investment in time, airdrops generally are free by nature because they do not require an active capital investment to receive tokens, as is the case with investing in an ICO (ICOs). This article provides an in-depth guide to the difference between airdrops and ICOs.
Passive income refers to income generated by minimal to no effort on the part of the recipient. The range of passive income opportunities and streams in the crypto space is constantly evolving. Crypto airdrops are one such method. Read this article for more information about other crypto passive income streams, such as staking, lending, cloud mining, and yield farming.
Numerous cases from history show that these token rewards can be a very lucrative way for participants to build wealth. For instance, one of the largest crypto airdrops conducted by the leading decentralized crypto exchange (DEX), Uniswap, in mid-2020 proved extremely rewarding for participants who held the airdropped native token, UNI.
400 UNI tokens were made available to Uniswap users as part of the free airdrop. At the time, the value of a UNI token traded at around $3. The UNI token is currently trading for around $7, representing a roughly 130% return on investment (ROI). The price of each token, according to CoinGecko, hit an all-time high of $44.92 during the bull market. Therefore those who sold their position at an opportune phase of the market cycle saw a much larger return.
Airdrops are one of the easiest ways to make thousands of dollars in crypto. People made: • 6 figures on Uniswap • 5 figures on ENS • 4 figures on Aptos But there are still many more great opportunities to come.. Here are 10 upcoming airdrops that I'm looking forward to.👇

— Miles Deutscher (@milesdeutscher) December 1, 2022
Top Airdrops Websites
Airdrops are an effective way of procuring tokens that have the potential to appreciate in value for free or with minimal effort. However, given the soaring popularity of airdrops as an effective marketing strategy for projects, the frequency and number of these listed giveaways make it an arduous task for participants looking to find legitimate crypto airdrops. The challenge is compounded by the recurrence of airdrop-related scams that blight the ecosystem.
Nevertheless, apart from adopting a strategic research-based approach by following projects on their dedicated social media channels for timely updates, using the following platforms is an effective way to navigate through the clutter and stay informed on upcoming genuine crypto airdrops.
Airdrop Alert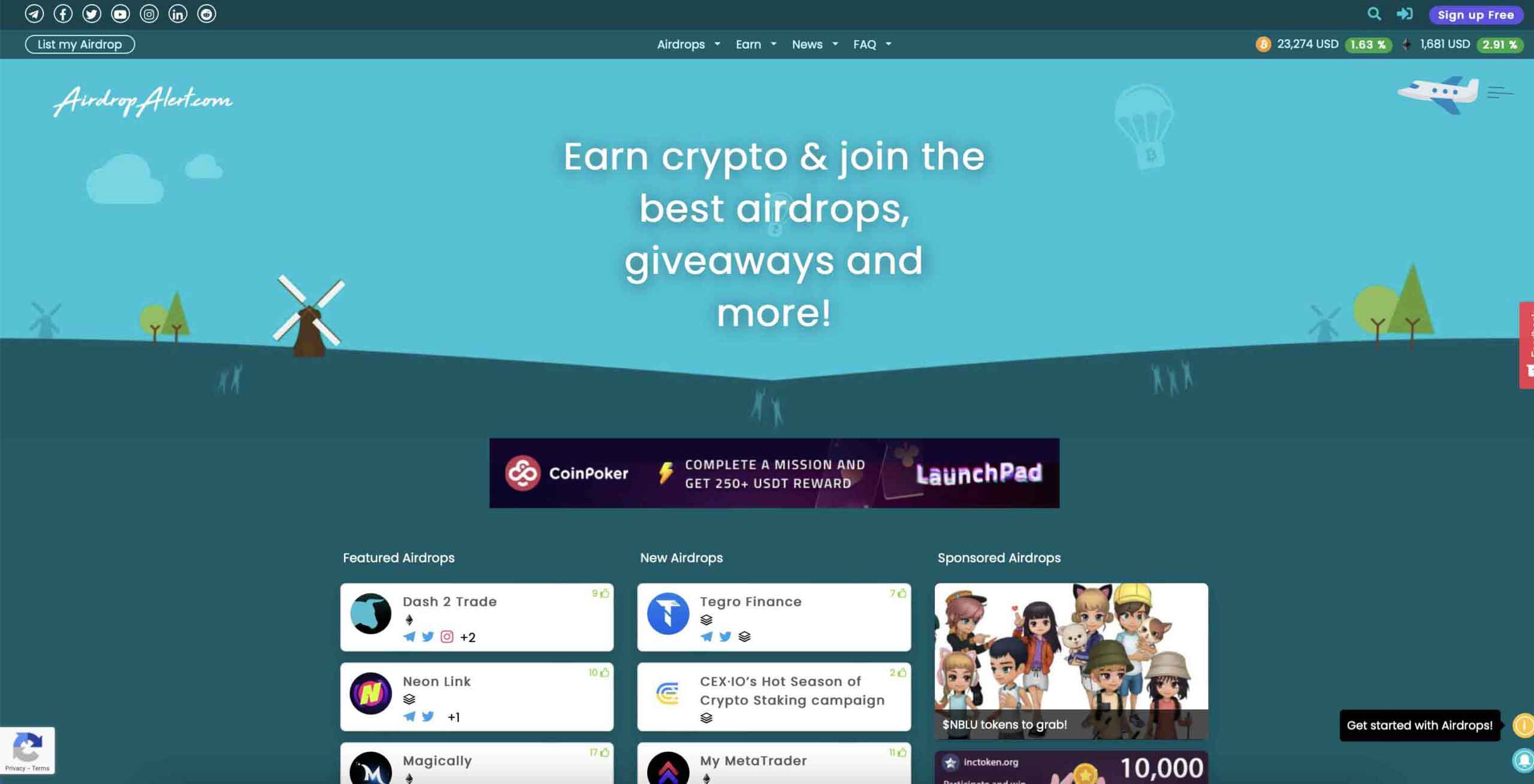 Airdrop Alert is a pioneer aggregator website in the crypto airdrops space. The platform was established in 2017 as a free tool to combat the scarcity of trustworthy information about obtaining free crypto airdrops and in response to the numerous scam projects that were being used to entrap crypto enthusiasts.
The platform features an extensive database of ongoing and upcoming airdrops. In addition, the platform provides valuable filtering features to narrow down search results depending on the type and categories of airdrops. Moreover, clicking on a listing expands to include extensive information about the airdrop. This includes information about the crypto project, the criteria for participation, and the end date of the airdrop.
In addition to providing valuable alerts on upcoming giveaway listings, the platform offers users a comprehensive crypto knowledge base and an informative blog section. It also provides a dedicated airdrops newsletter to its subscribers.
Airdrops.io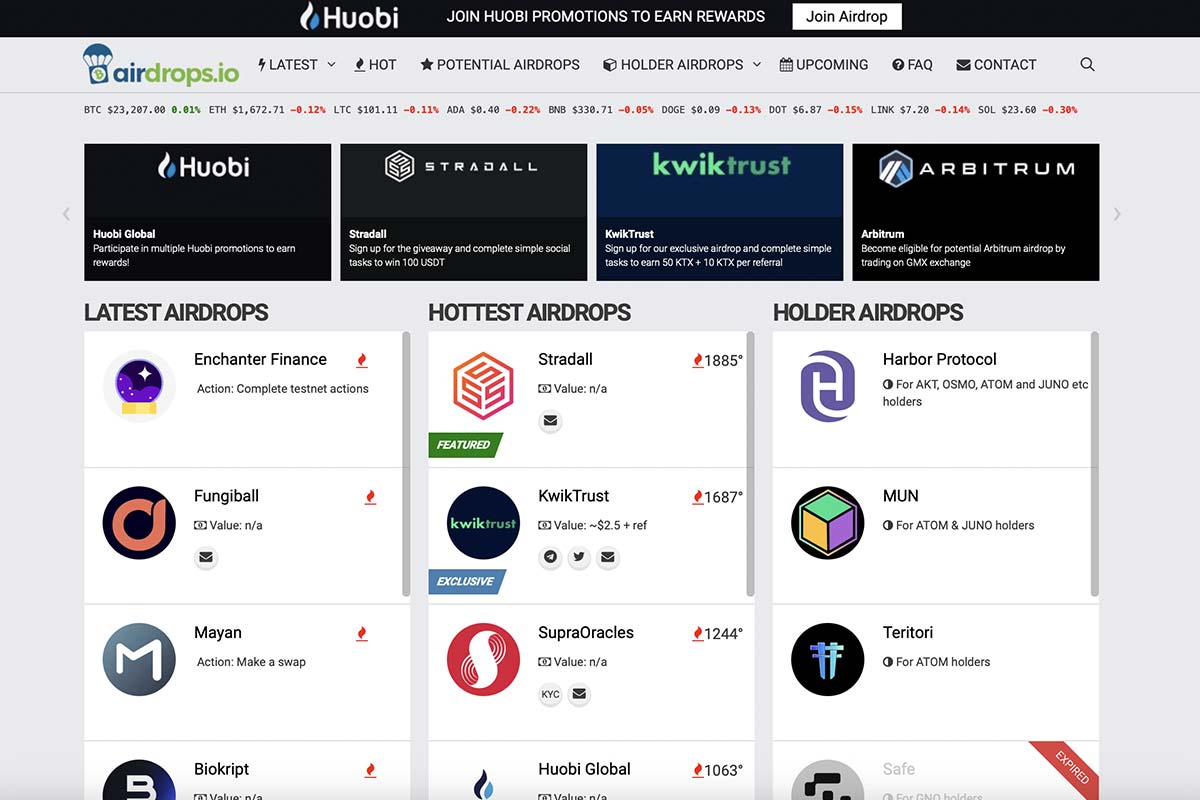 Similar to Airdrop Alert, Airdrops.io provides users with a birds-eye view of upcoming events. Information about each listed airdrop is in-depth, with an easy step-by-step guide on how to participate. The platform layout is straightforward, with a dedicated section for holder airdrops (The free distribution of tokens to users with a certain amount of a particular cryptocurrency in their wallets is known as a holder airdrop).
Unlike Airdrop Alert, however, Airdrops.io do not have a Twitter profile or a significant social media presence. This can be a deterrent for some users as identifying token rewards through tweets, and other social media channels is a convenient method of staying abreast with the broader community and sentiment surrounding a project.
CoinMarketCal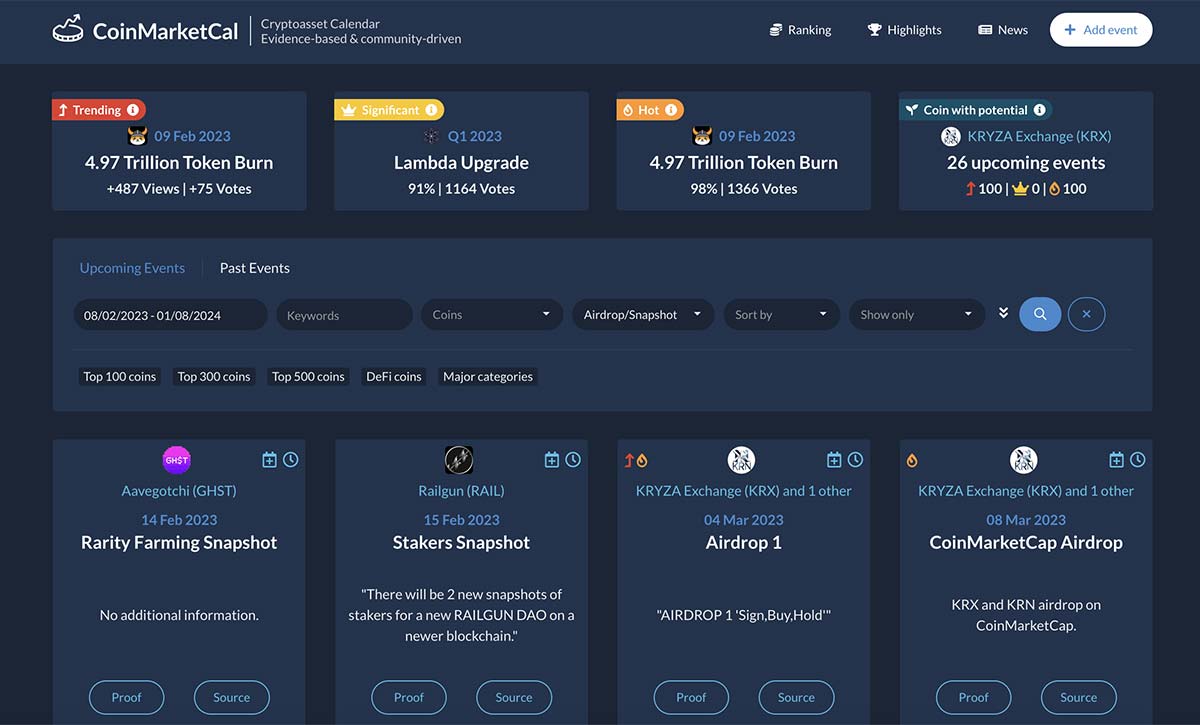 Despite not being a platform specifically for crypto airdrops, CoinMarketCal is a comprehensive crypto calendar resource for users. The platform displays information on events ranging from conferences, token listings, hard forks, crypto project upgrades, and airdrops. Additionally, the platform's intuitive filtering and sorting features make it less daunting to sift through the plethora of advertised events.
The platform offers a practical feature that allows users to schedule a reminder or add an upcoming airdrop event to their calendars. In contrast to the aforementioned resources, however, there is little information about the airdrop itself on the platform. This, therefore, requires users to access the project's website to conduct research about the specifics of the airdrop.
Conclusion
The platforms mentioned in this article serve as an efficient tool for identifying potentially profitable crypto airdrops. That said, despite these platforms having a formal vetting protocol and due diligence team that examines each campaign before they are listed, it is paramount to conduct one's own research.
This entails thoroughly reviewing the fundamentals of the project behind the airdrop, the project's team, and its roadmap. Another effective strategy to mitigate the risk of falling for airdrop-related scams is learning about the most common scams in the crypto space and the attack vectors used by malicious actors. Therefore, awareness coupled with a research-centric approach will increase one's chances of successfully participating in a rewarding crypto airdrop.