MetaMask is a leading cryptocurrency wallet popular among Ethereum enthusiasts and decentralized applications (dApps) users. With this wallet, users can store, send, and receive Ethereum-based tokens.
The MetaMask wallet has several exciting features, including account management and token swapping. The token swapping, for instance, allows users to trade different Ethereum-based tokens directly within the wallet.
Whether you are a newbie or a crypto expert, exploring MetaMask's features is essential. By doing so, you can make informed decisions about leveraging your wallet for securely managing your digital assets.
MetaMask Overview
According to research, MetaMask has reached over 30 million users. Further research showed this wallet innovative features are responsible for its increased growth.
The table below is a brief description of the top features.
| | |
| --- | --- |
| Wallet Name | MetaMask |
| Supported Cryptocurrencies | ERC-20 tokens, ERC-721 token, Optimism, Polygon, Arbitrum, Avalanche, and Binance Smart Chain. |
| In-App Feature | Buy, sell, store, and swap assets. |
| Available As | Mobile app and Browser extension. |
| Fees | Users can customize gas or transaction fees. |
Summary of MetaMask features
MetaMask's Top Features
MetaMask wallet offers its community unique features as it continually introduces opportunities. As said by the Co-founder and CEO of Alpha Impact, this wallet is a significant force in the web3 ecosystem.
So, in Web3, the starting point is a wallet like MetaMask. In the early days, Web3 wallets were only used for transactions such as sending crypto, NFTs, and other financial tasks. But this is changing.

Co-founder and CEO of Alpha Impact, Hayden Hughes.
The top features of the MateMask wallet are further explained below.
Compatible with Various ERC-20 Tokens
MetaMask has several ERC-20 tokens, hosting about 450,000+ tokens in 2022. It also supports the ERC-721 token, mainly used for NFTs. However, this can only operate on mobile applications.
As years pass-by, MataMask increased its capability by supporting other non-Ethereum blockchains. Operating the non-ETH tokens on the wallet is usually more complex than Ethereum-based tokens. Another setback to the MetaMask wallet is the lack of support for Bitcoin, the most prominent digital asset according to market capitalization.
Supports Several Decentralized Applications
MetaMask is known as a central hub for multiple decentralized applications (dApps), strengthening communities of NFTs, builders, and Web3 enthusiasts. It also allows blockchain users to interact with major DeFi platforms, including LIDO, Uniswap, OpenSea, TheSandbox, and Mutant Ape Yacht Club. Interestingly, you don't need to install or configure anything before accessing the decentralized applications. You mainly need to agree to a signature request that confirms your interest in connecting the DeFi platform to your wallet.
MetaMask also provides unwavering support for NFTs storage – a core element in the metaverse, blockchain gaming, and social media platforms. This provides blockchain enthusiasts with unlimited access to Web3.
MetaMask Mobile App and Browser Extension
MetaMask can be accessed as a mobile app or a browser extension. Every iOS and Andriod user can access the mobile application, while the browser extension is compatible with Brave, Mozilla Firefox, Google Chrome, and Microsoft Edge.
MetaMask has 4.7 ratings on App Store (for iOS users), with 39k ratings, and it's also rated #140 in the utilities category. On the other hand, it has 4.4 ratings on Google Play (for Android users) and 225k reviews. Most of the negative reviews are centered around bugs and users' exposure to internet scams or cyber threats. Nevertheless, you can keep exploring the available digital opportunities, but ensure not to compromise your data.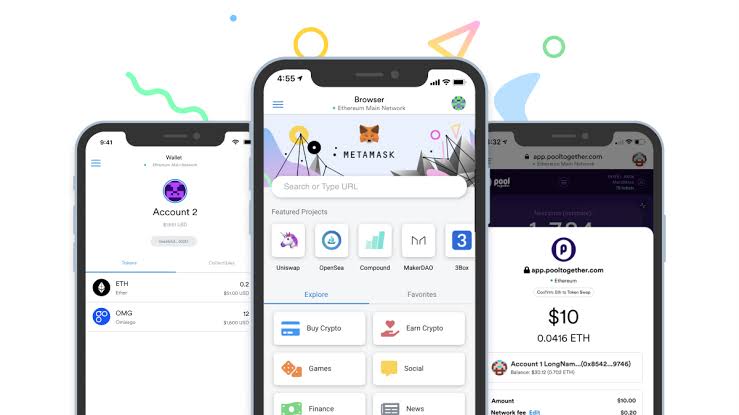 Cost and Fees
MetaMask charges a service fee of 0.875%, allocated to the wallet's development. Since Ethereum is an extensive network, gas fees could be costly. MetaMask introduced EIP-1559, allowing users to customize their transaction fees. Thus, the incurred gas fee depends on the urgency of the user's transaction and expertise. For instance, experienced DeFi users may pay above the standard cost to facilitate their transaction speed. The extra charge is often referred to as a high-priority fee.
MetaMask Security
MetaMask eliminates intermediaries and promotes decentralization, a common feature among non-custodial wallets. Thus, unlike non-custodial wallets, the wallet prioritizes anonymity and privacy as its key features. Here is an article detailing the differences between custodial and non-custodial wallets. Also, it doesn't request KYC (Know Your Client) or proof of identification, which prevents it from storing users' personal information. For mobile app users, you will secure your account through biometric data, while people using a browser will need a password. You will also receive a 12-seed mnemonic phrase, which is essential for retrieving your wallet in the case of a stolen or damaged device.
Unfortunately, MateMask is susceptible to cyber attacks, including crypto scams, Trojan and Banker. You can read this article to learn how to protect yourself from crypto phishing scams.
Cyber attacks have been a significant setback for security-conscious investors. Hackers can access one's digital asset once the 12-seed phrase is stolen or lost. However, you can protect your assets by following Web3 security best practices.
Web3 Security Best Practices:

How to keep your hot and cold wallets safe?

1. Do not download any extensions, files or applications you don't 100% trust on your devices (Wallets like Exodus)

2. Do not connect your Metamask/Trust wallet or any DeFi wallet to any services you…

— Yazan Al Kharouf (@YazanXBT) June 7, 2023
Supported Cryptocurrencies
As mentioned earlier, the MetaMask wallet supports several ERC-20 tokens, which are often used in the DeFi ecosystem and many cryptocurrencies, including:
Uniswap (UNI)
MAKER (MKR)
Tether (USDT)
The Sandbox (SAND)
DAI (DAI)
Shiba Inu (SHIB)
Apart from ERC-20 tokens, MetaMask wallet also supports ERC-721 tokens, which are used for minting most NFTs on the Ethereum network.
Additionally, it supports some non-Ethereum networks, including:
Optimism
Polygon
Arbitrum
Avalanche
Binance Smart Chain
However, the process is usually quite challenging for these non-Ethereum networks, especially among beginners. Here is an example; the Binance Academy stated that people who need to add Binance Smart Chain to their MetaMask wallet would need to manually input the following:
Getting Started with MetaMask Wallet
Creating an account on the MetaMask wallet is simple and can be completed within a few minutes. If you are running it on a browser, visit the official website and download the browser extension on your laptop. You may also download the extension from the Chrome store, but this guide recommends using MetaMask's official website to reduce the risk of downloading the wrong version.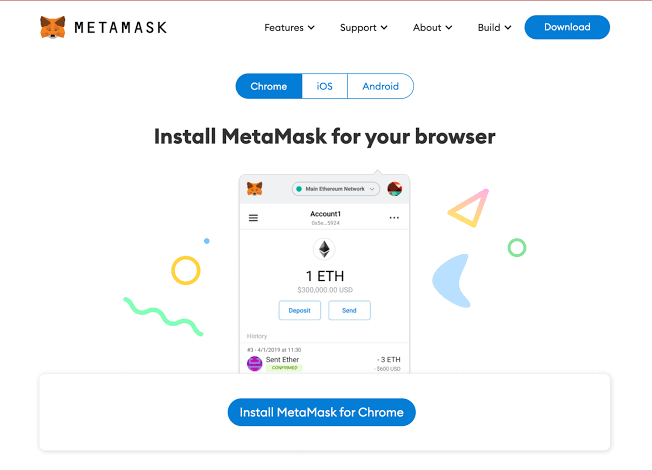 Once you have the extension on your laptop, restore a lost account by inputting your 12-seed phrase. You can read this article about the ERC-4337 standard recently released by Ethereum. The ERC-4337 standard was introduced to enable 2-factor authentication.
If you are creating a new account, follow the steps below:
Step 1: Carefully read the agreement that pops up on your screen. Confirm that you agree to the terms of use by clicking the "accept" button.
Step 2: Create a strong password that potential hackers cannot easily guess. If you use iOS, you can choose to unlock your MetaMask account with a face ID.
Step 3: Save your Secret Recovery Phrase in a trusted place. This will help when accessing your ETH wallet from a different device. You can store the phrase in a safe vault, write it down in a hard copy, or encrypt it on a hard drive.
Step 4: This step asks you to confirm your secret recovery phrase. Once it's done, congratulations! You are ready to start buying, selling, and storing ETH.
Any Drawbacks to Consider?
MetaMask wallet has certain setbacks, which have been quite discouraging for some users. However insignificant these drawbacks may seem, they could interfere with users' experiences.
MetaMask accounts are at risk when the mobile device or computer isn't safe.
Transaction fees can be outrageous, especially when the network is congested.
Customer service isn't top-notch yet.
Final Thought
MetaMask is popularly recognized for its outstanding features, especially concerning GameFi, DeFi, and NFTs. The wallet is user-friendly and can easily be navigated by a beginner. Users having full control of their assets and private keys is an exceptional feature within the crypto community. Even though MetaMask offers these benefits, its users still face phishing attacks. Wherein this has been a significant concern for the crypto community at large.