The growing interest and demand for cryptocurrencies and blockchain technology have propelled the sector into a thriving asset class. With hoards of investors flocking into the space looking to make a fruitful return on their digital assets, the crypto market has seen accelerated growth through a new profile of retail investors. The growth of the burgeoning altcoin sector has meant that having only a few cryptocurrencies in one's portfolio is a thing of the past. Crypto portfolio trackers have therefore emerged to make it easier for both novice and experienced investors to manage diverse crypto portfolios while taking into account the volatile nature of the asset class.
A crypto portfolio tracker is an application or website that investors can use to monitor the total value of their cryptocurrencies across multiple crypto exchanges, wallets, and blockchains in one location. CoinStats, Delta, CoinTracker, Crypto Pro, and CoinMarketCap are among the top crypto portfolio tracker apps.
Crypto Portfolio Tracker Apps Explained
With over 23,000 crypto assets, numerous blockchains, crypto wallets, and exchanges, investors can find it particularly challenging to maintain a record of their diverse portfolios. This is especially true for investors who store their assets in different wallets and exchanges.
Keeping track of each crypto investment is vital for preventing mismanagement of investments which could lead to considerable loss of funds. Furthermore, it becomes challenging to make fully informed investment decisions, such as when to hold, when to rebalance, and when to sell, without a detailed overview of current holdings and how assets have been performing.
Maintaining a manual record of all transactions across various platforms is a cumbersome and time-consuming task, even for the most seasoned investor. Therefore, crypto portfolio tracker apps are a solution for more efficiently managing multiple portfolios in a single platform. A crypto portfolio tracker app represents a go-to resource for accessing one's crypto profits or losses, comparing the performance of all holdings, and receiving updates on price fluctuations.
Crypto portfolio tracker apps streamline the process of asset management for an investor. Most of these apps have API functionality which automates the process of synchronizing assets held by investors on different exchanges and wallets. Integrating all platforms into a single portfolio tracker tool allows users to track the value of their crypto holdings in real-time on a single screen.
Furthermore, top crypto portfolio management platforms provide information on all past trades, their value, and destinations or sources. Most apps also contain advanced charting tools to help users make timely investment decisions.
Considerations When Selecting a Crypto Portfolio Tracker
All crypto portfolio applications enable investors to track their diverse holdings under one roof. However, each app has its own set of distinct features, pricing, and functionalities. Therefore, it is essential for investors to recognize these nuances before selecting their preferred tracker.
Most of the best crypto portfolio trackers offer a free version to users. However, in order to access valuable add-ons such as advanced portfolio analytics, metrics, and charting tools, tracker apps often follow a paid subscription model. For a better user experience, each app has its own monthly or annual pricing structure. Therefore, it is essential to compare the different platforms' paid plans and the features available in return.
Supported Assets and Platform Integration
Top crypto portfolio tracker apps provide support for a wide variety of cryptocurrencies, regardless of their market cap or size. Similarly, most apps offer integration with major crypto exchanges and wallet providers. Before selecting a tracker app, investors must verify that the platform accepts the integration of the exchange(s) or wallet(s) they use and the cryptocurrencies they hold.
Since portfolio trackers have access to the accounts wherein investors store their crypto assets, selecting an app that follows high-security standards is vital. It is important to note that while portfolio trackers integrate price data from several sources through API auto-sync functionality, these apps utilize read-only API credentials. Read-only access permits trackers to only view transactions without allowing the application to modify or facilitate any transaction. Nevertheless, it is always crucial to double-check that portfolio trackers abide by this security measure. The availability of security features like two-factor authentication (2FA) is another factor to consider when selecting a crypto portfolio tracker.
User Interface and Functionality
The main objective of crypto portfolio tracker apps is to provide a seamless experience for investors to view their holdings at a glance. An app with a good user interface, easy to navigate dashboard, with a range of functionalities such as historical price data, graphs, and portfolio insights can refine one's investment strategies.
Another important consideration when choosing a crypto portfolio tracker app is the range of devices it supports. Some trackers might be limited to desktop apps, while others support mobile apps across all major operating systems that investors can monitor on the go.
Top Crypto Portfolio Tracker Apps
CoinStats
With support for over 8000 cryptocurrencies and integration for over 300 exchanges and wallets, CoinStats is a popular crypto portfolio tracking apps used by novices and veterans in the space. According to the platform, there are over 1.2 million users.
Apart from offering a robust toolkit for tracking one's crypto portfolio from several different exchanges or wallets, CoinStats boosts its functionality by providing a platform for monitoring NFTs and DeFi assets in one place. In addition, the application also provides a news aggregator for each cryptocurrency, customizable price alert notifications, educational blogs, and useful tools like profit and return calculators.
Outside of being an excellent portfolio tracker, CoinStats also has an in-built crypto wallet that allows users to buy and swap cryptocurrencies. By partnering with crypto on-ramp platforms like Ramp and MoonPay, users can seamlessly purchase select crypto assets with 30 different fiat currencies using a credit card directly on the platform.
We've partnered with @RampNetwork to give you new ways to buy crypto through CoinStats.

Stay tuned for more 😶‍🌫️ pic.twitter.com/jncJwKim2Y

— CoinStats (@CoinStats) February 15, 2023
Another central selling point of CoinStats is that it is available on all major operating systems, including macOS, IOS, Android, and web browsers and extensions.
CoinStats offers a free version where users can integrate a maximum of 10 different exchange or wallet portfolios. The premium version is priced at $9.99 per month and offers unlimited portfolio integrations and in-depth portfolio analytics.
Delta
Delta is a multi-asset investment tracking application. The application caters to a whole host of assets, including stocks, forex, mutual funds, commodities, NFTs, and cryptocurrencies. As a crypto portfolio tracker, Delta is a popular option among investors as it supports over 7000 cryptocurrencies and can be integrated with over 15 wallets and over 20 different crypto exchanges. It offers manual entry of transactions and auto-sync functionality via API.
Delta has a clean interface with an intuitive dashboard. The seamless design and detailed trading analytics cater to both beginners and experienced investors. Another nifty feature of the application is that it allows investors to create multiple crypto portfolios for different trading strategies or users.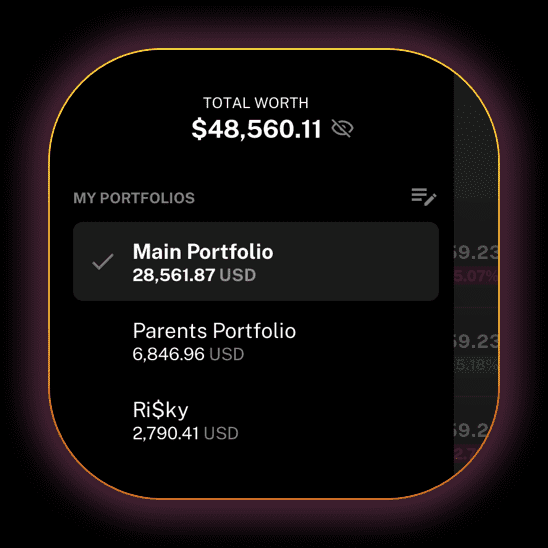 While there is no desktop version, Delta is available on both IOS and Android. The app has a free version that allows users to connect up to two different exchange accounts and two different wallets. The pro version costs $59.99 annually and offers unlimited connections to exchanges and wallets while providing access to advanced metrics.
Crypto Pro
Launched in 2015, Crypto Pro is a popular crypto portfolio tracker among enthusiasts. With support for over 5000 cryptocurrencies across 90 different exchanges, Crypto Pro offers extensive integration for its users. In addition to tracking different exchange accounts, the platform also enables users to track various crypto wallet addresses within the app. The application allows users to enter manual transactions and automatically import one's holdings and trades from exchanges through API access.
A standout feature of the application is its focus on privacy. All user information and data, including a user's entire cryptocurrency portfolio, is encrypted on their device. This means that Crypto Pro does not have access to any sensitive data.
The application is only available for Apple devices currently, with plans to launch an android version in the near future. Users can choose to back up their crypto portfolio data through iCloud. This guarantees that their portfolios remain accessible even in the event that their device is lost and allows seamless syncing across all Apple devices.
The application provides analytics such as portfolio distribution, trade histories, and an easy-to-read dashboard and overview for each crypto holding. The platform also offers live prices of all supported cryptocurrencies along with an aggregated news section for each crypto asset. However, these features remain limited compared to the aforementioned portfolio tracker apps. Furthermore, the free version only allows manual entry of transactions. In contrast, the premium version at $7.99 per month enables the ability to sync an unlimited number of automatic imports from various exchange accounts and wallets.
CoinTracker
CoinTracker is a comprehensive automated portfolio-tracking app that supports over 500 exchanges and 10,000 cryptocurrencies. The application also has added utility of being a detailed crypto and NFT tax software. While crypto taxation is an ongoing debate across several jurisdictions, the platform currently enables investors to become fully compliant with crypto tax rules where bills have been passed. The application automates capital gains tax and provides a detailed report. The application currently has full support for the United States, India, the United Kingdom, Canada, and Australia.
As a crypto portfolio tracker, the application offers a detailed dashboard by incorporating real-time crypto prices, historical data, deposits, and withdrawals. CoinTracker provides a free version that allows users to integrate a maximum of five wallets. However, to avail the tax reporting features, users must opt for either the hobbyist package at $59 per year or the premium package at $199 per year. These plans not only increase the number of wallet integrations but also offer users to connect with tax professionals to assist them with the entire tax reporting process.
CoinTracker is available as a web-based app and also offers support for IOS and Android devices.
CoinMarketCap
Launched in 2013, CoinMarketCap is a household name in the crypto space as a price tracking platform. The platform offers a free crypto portfolio management tool. Since CoinMarketCap tracks virtually all cryptocurrencies, users can monitor the performance of a diverse range of crypto assets in their portfolio.
The platform has recently launched a beta version for automatically syncing wallets from a limited number of blockchains. The blockchains available for the auto-sync functionality include Ethereum, BNB Smart Chain, Polygon, Arbitrum, Avalanche, Optimism, and Fantom. The platform, however, lacks the functionality of integrating multiple cryptocurrency exchanges. Therefore there is a reliance on manual entries for the most part.
Besides letting users track the profit or loss of one's crypto holdings, the portfolio offers basic data analytics such as portfolio allocation and comparative analysis. Investors can use CoinMarketCap's portfolio tool via the web platform, IOS, and Android devices.
Conclusion
Keeping a record of a diversified crypto portfolio across a myriad of wallets and exchanges can be a hassle for any investor. Using crypto portfolio trackers streamlines this process by integrating all crypto holdings onto a single dashboard. This can significantly diminish the time required to monitor the performance of one's crypto investments. By utilizing a top crypto portfolio tracker and with the valuable insights they provide, individuals can make more informed investment decisions.